5-Axis Jig Boring-Milling Machine Designed for Complicated Part and Mold Geometries in Extremely Hard Materials
Methods Machine Tools, Inc. has introduced the YASDA YBM Vi40 5-Axis Vertical CNC Jig Boring-Milling Machine for high accuracy, hard milling applications of complex dies, molds and components in industries such as aerospace, defense, automotive, medical, electronic and more.
The YBM Vi40 achieves exceptionally high accuracy including simultaneous 5-Axis cone machining circularity of 2.32 µm, .89 µm positioning accuracy of the Y-Axis, and indexing accuracies of ± 0.50 sec on the B-Axis and ± 0.20 sec on the C-Axis. A 24,000 RPM, 40-taper direct-drive spindle offers a high degree of precision throughout the entire speed range.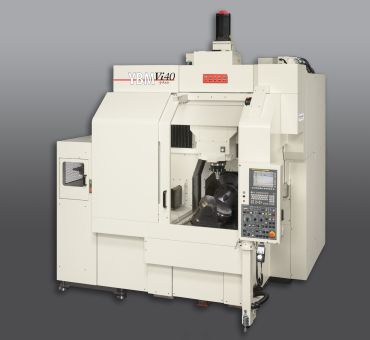 The YBM Vi40 offers 5-sided machining in a single set-up. The number of operations is dramatically reduced by offering 3+2-Axes machining where 3-Axes are simultaneously machining by fixing the index angles of B/C-Axes, as well as 4+1 Axes machining where 4-Axes are simultaneously machining by fixing the index angle of the B-Axis.
The new Vi40 features a symmetric bridge-type structure, resulting in ultra-high precision when making heavy cuts. Single-piece high-grade cast iron construction, including the column and top beam, increases the rigidity. A highly rigid feed drive system features large diameter ball screws and high-speed interpolation control. Three bearings support a precisely assembled worm gear driven B-Axis, and a highly accurate direct-drive motor is included on the C-Axis.
To reduce thermal distortion and achieve the highest precision 5-Axis machining, including over long production runs, the YBM Vi40 features a thermal distortion stabilizing system where the X-Y-Z axes and two rotational axes (B/C) are maintained to ± .2 degrees C to shop ambient. Circulating temperature-controlled oil through the machine minimizes thermal displacement of each axis. A highly rigid and accurate rotary B/C-Axis mounted on the Y-Axis machine bed controls movement and offers machining stability, even when adding up to 400 lbs. of weight including the fixture and part.
An exclusive spindle bearing preload self-adjusting technology provides optimum preload at the full range of spindle speeds. YASDA has developed a mechanism that applies a large preload at low-speed rotation, and the preload decreases according to the amount of heat generated by the spindle bearing at high-speed rotation. A full range of machining is offered, from heavy duty roughing to delicate fine finishing, all while providing a long tool and spindle bearing life.
Want more information? Click below.