5-Axis Machine Completes Complex Turning, Drilling, Milling, and Gear Cutting in One Setup
The Hyperturn 65 Powermill offers a large spindle clearance of 1300mm, a powerful counter spindle which also allows 4 axis machining, a B-axis with a direct drive for complex 5-axis simultaneous milling operations, and an additional Y-axis for the lower turret, making it ideal for machining complex parts.
The ergonomically designed machine is particularly well-suited to the serial production of workpieces, for example in the automotive industry, the fields of mechanical engineering and materials handling, but also for the aircraft industry.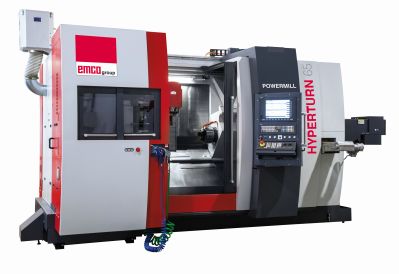 Complex, costly turning, drilling, milling and gear cutting operations can be competed in one setup. Additional handling and part storage is eliminated and workpiece precision is greatly improved. Total production time, fixture and personnel costs, as well as floor space requirements can be drastically reduced with the HYPERTURN.
With 29 kW and 250 Nm the counter spindle now has enough power to machine the workpiece simultaneously with two tools, enabling 4-axis machining.
A further benefit is the milling spindle, which with 29 kW, 79 Nm torque and speeds to 12,000 rpm, promotes productivity in the complete machining of complex workpieces. The B axis direct drive gives the Hyperturn 65 PM good dynamics and contour capabilities with 5 axis simultaneous machining, along with shorter tool change times. The additional Y-axis on the lower turret makes extensive milling work possible at the same time as machining with the milling spindle.
The milling spindle with HSK-T63 tool interface can be used for both turning and drilling/milling work. It can be continuously swiveled within a range of ± 120 and clamped at any point. With a useful Y-travel of +120/-100mm, even the most complex of machining work can be carried out. This includes gear-cutting operations, turning/milling work for crankpins, 5 axis machining, and much more. The tools can be prepared according to the customer's requirements with a 20 piece pick-up magazine, or a 40 or 80 piece chain magazine.
The Y axis is accomplished by two interpolating axes, resulting in a distribution of the cutting force in two levels and adds stability to heavy-duty turning and milling. This means the lower turret with integrated milling drive can also be used for complex milling operations at all 12 positions, combined with a Y-axis with ± 50 mm travel.
20, 40 or 80 piece tool magazines with HSK-T63 give the user more possibilities for complete machining operations of complex workpieces, with simultaneously low set-up times for individual parts manufacturing and high stability for turning and milling works. The frontal arrangement is easy to set up and ergonomic.
As an alternative to the VDI30 or VDI40 12-position tool turret, EMCO offers a new generation of turret with BMT interface and direct drive. Higher stability and precision, and performance data similar to a milling machine, enable the complete machining of turning/milling workpieces.
Control
In addition to mechanical and electrical performance values, control systems also affect machine tool productivity. The Hyperturn 65 is controlled by the Siemens SINUMERIK 840D-sl. The new user interface enables an intuitive and significantly easier programming of the machine.
Want more information? Click below.