Arbitrary Speed Threading Now Available on More CNC's -- Ideal For Oil & Gas Industry Pipes and Fitting Maintenance
FANUC America Corporation now offers the arbitrary speed threading option on 0i-TD and 0i Mate-TD CNCs for new turning machines. Arbitrary speed threading enables the operator to adjust the spindle speed during thread cutting to control chatter, and it also provides the functionality to quickly rethread or repair existing threads. This makes it ideal for oil & gas industry pipe and fitting thread maintenance.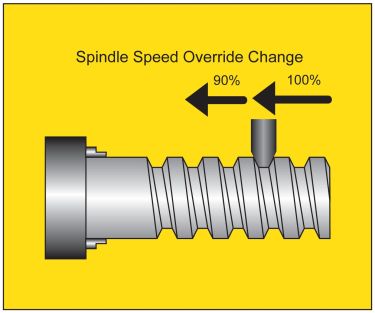 Arbitrary speed threading allows the operator to adjust the spindle speed during a threading cycle to eliminate vibration and chatter. This is an invaluable feature for thread repair as chatter is more likely to occur with the small amounts of material typically being removed. Without arbitrary speed threading, the spindle speed override is inhibited during threading. This is to prevent damaging the part, as a change in thread lead would occur. The arbitrary speed threading function ensures that the cutting tool remains coordinated with the spindle speed at all times during threading to produce the programmed lead.
Arbitrary speed threading also provides the functionality to pick up and repair an existing thread -- making it fast to set up, easy to use and quick to reproduce original threads. The process of repairing threads can be simplified further for operators by using FANUC's MANUAL GUIDE i conversational programming. Without any knowledge of G-code, the operator uses straight forward graphical screens to answer simple questions to generate a suitable thread repair program.
Arbitrary speed threading can be used with constant lead threading, threading cycle and multiple threading cycle. In addition to repetitive machining, the same thread shape can be machined even if the spindle speed is changed between roughing and finishing passes. Cs contour control is required for this function.
Arbitrary speed threading automates the rethreading process that used to be a highly skilled manual process. The increased productivity gained from this option is ideal for the oil & gas industry where threading large diameter or long length workpieces and pipe rethreading or repair is common. When purchasing a new turning machine, specify arbitrary speed threading option on the FANUC CNC to the machine tool builder or distributor. Arbitrary speed threading was previously introduced for the FANUC Series 30i-B and 30i-A CNCs.
Want more information? Click below.
Copyright © 2019 by Nelson Publishing, Inc. All rights reserved. Reproduction Prohibited.
View our terms of use and
privacy policy
::m::