Expanded Line of HMC's Can Handle A Lot of Parts -- Pallet Sizes Range from 300mm to 1,250mm
Methods Machine Tools Inc. has introduced a newly expanded line of KIWA Horizontal Machining Centers. With the new KIWA KMH Series, the KIWA line now has pallet sizes ranging from 300 mm to 1,250 mm to handle a large range of part sizes.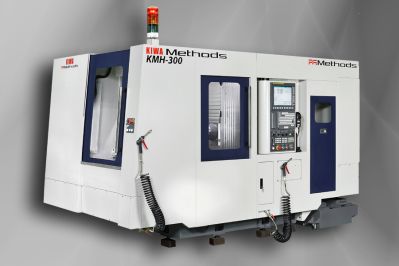 "With the introduction of the KMH Series, we now offer our customers an affordable, entry solution for horizontal machining with the dependability and consistency they expect from a KIWA machine and Methods Machine Tools," said Mr. Bernie Otto, KIWA Product Manager for Methods Machine Tools, Inc.
The KMH-300 and KMH-630 Series offer an integrated full rotary B-Axis and a reliable FANUC Oi-MD control with a 15 in. LCD screen. Both feature excellent chip evacuation and easy access for set-up / maintenance. A spindle oil cooling system and coolant-through ball-screws are standard.
The KMH-300 has a compact footprint of 140 in. depth x 107 in. width including the chip conveyor. Travels on the KMH-300 machine are 18.1 in. on the X and Y-Axes, and 13.7 in. on the Z-Axis. A 40 Taper version of this model due out in early 2015 as well.
The KMH-630 maximizes floor space with a footprint of 235 in. depth x 137 in. width including the chip conveyor. Travels on the KMH-600 are 39.7 in. on the X-Axis, 33.4 in. on the Y-Axis and 37.4 in. on the Z-Axis.
In addition, Methods introduced the new KH-Series models, including the KH-55 500 mm dual pallet model, with 10k RPM, Cat 50-Taper and a newly expanded 240-tool ATC.
The next generation KH-45 Series was also introduced, featuring the new KH-4500, shown as a PC6 version with increased rapid rates to 74m/min and a newly developed "ball drive system" for the 4th axis which provides no backlash, resulting in higher rigidity and longer axis life.
The KH-4500 showcases KIWA's newly developed 150 bar (2,000 psi) coolant through-the-spindle option. This feature is double the pressure of most models within its class, and is ideal for deep hole drilling, especially in hardened steel applications.
Want more information? Click below.