New Hybrid Cermet Materials for Inserts Offer 50% Better Abrasion and Fracture Resistance
Kyocera Corporation has developed a new series of hybrid cermet materials offering a 50 percent improvement in abrasion resistance and fracture resistance over conventional materials used as industrial cutting-tool inserts.
The new TN620 and PV720 cermet grades are ideal for a wide variety of metal-cutting applications ranging from high-speed to low-speed machining.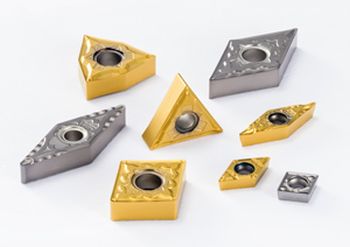 TN620 and PV720 exceed conventional materials in both hardness and strength through proprietary material technologies, such as a special hybrid-structure surface hardening that distributes ultrafine particles within the cermet in a more optimal manner; hybrid bonded phase, including special metal phase with high melting points; and hybrid hard phase with superior compressive stress effects.
Furthermore, PV720 builds on the superior properties of TN620 by adding MEGACOAT NANO, a multilayer coating technology never before applied to a cermet.
These new materials expand Kyocera's cutting-tool product line, helping users achieve higher productivity through longer tool life and stable processing of steel components widely used in automobiles and industrial machinery.
Kyocera has drawn on its many years of cermet technology development to create these new materials, which offer improved abrasion resistance, better fracture resistance and better surface finish quality than conventional steel-cutting tools.
Special Surface-Hardening Hybrid Structure Improves Abrasion Resistance
Both TN620 and PV720 utilize a special graded composition to create a surface-hardening hybrid structure, which improves both hardness and toughness. By using tough cermet with superior chipping resistance and thermal shock resistance for the internal structure, and high hardness cermet for the surface structure, the new materials achieve superior fracture and abrasion resistance, as well as stable processing.
High-Melting-Point Hybrid Bonded Phase Ensures Higher-Quality Machining with Improved Surface Finish
By creating a composite of conventional cermet and high-melting-point metal-bonded phase, the resulting hybrid bonded phase are highly heat resistant. This improves adhesion resistance, chipping resistance and fracture resistance to provide a stable machined surface of superior quality.
Ultrafine-Particle Hybrid Hard Phase Improves Strength and Fracture Resistance
The new materials offer improved flexural strength by incorporating a uniform ultrafine-particle "hybrid-hard-phase." In addition, high-melting-point metal binding phases increase compressive-stress effects for better fracture resistance.
Proprietary MEGACOAT NANO Multilayer Coating Technology
The PV720 grade improves on the already strong characteristics of TN620 by including Kyocera's proprietary MEGACOAT NANO multilayer coating technology. Utilized for the first time on a cermet, MEGACOAT NANO provides outstanding abrasion and oxidation resistance for higher-efficiency machining with superior surface finish.
Want more information? Click below.