Ohio Manufacturer Finds New Solution to Old Problem -- Eliminating Cracking Carbide Inserts
The machinists at Fairfield, Ohio's Positech Corporation were growing tired of constantly changing inserts. So they decided to try one hot idea -- cold -- a Cold Gun System to be exact. The result was a 50% increase in tool life.
Positech Corporation of Fairfield, OH manufactures intricate machined parts for the automotive, motorcycle and aerospace industries.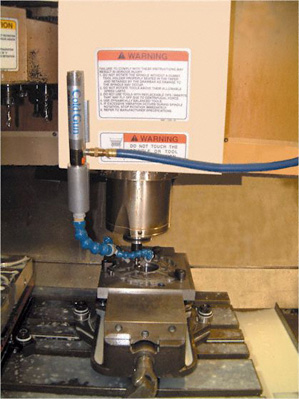 The Cold Gun increases tool life, tolerances, and production rates by eliminating heat build-up.
One of Positech's machinists, Dave Gray, had a frequent problem rough-milling pockets in type 410 stainless steel when using a two flute 3/8" carbide cutter on their Okuma vertical machining center. Coolant produced thermal shock, resulting in micro cracking of the carbide inserts. Without coolant, thermal cracking of the inserts was almost immediate. They were constantly changing inserts.
The company installed a Model 5215 Cold Gun System. The 20°F cold air kept the inserts cool and allowed all the heat to be carried away on the chips. Tool life increased by 50 percent.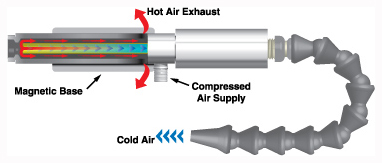 The Cold Gun incorporates a vortex tube to convert an ordinary supply of compressed air into two low pressure streams, one hot and one cold. The hot airstream is muffled and discharged through the hot air exhaust. The cold air is muffled and discharged through the flexible hose, which directs it to the point of use. The magnetic base provides easy mounting and portability.
Heat build-up can ruin expensive tooling as well as the part being machined. In Positech's situation, it would have been easy to constantly ruin a $200 cutter.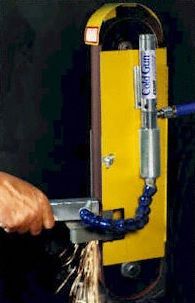 The Cold Gun keeps parts cool to the touch and prevents discoloration.
When asked how others solve this problem, Gray replied, "We've seen companies go so far as to defeat the safety interlocks so the machine runs with the doors open -- just to blow a little compressed air at the part to cool it. For us, the Cold Gun keeps the tooling cool and allows us to immediately handle the part since the heat blows away with the chips."
The cold gun is also an alternative to mist systems. It eliminates the costs associated with the purchase and disposal of cutting fluids and worker related health problems from breathing airborne coolants or slipping on wet shop floors.
Want more information? Click below.