What You Missed at LIA's Lasers for Manufacturing Event
Laser experts, business professionals and representatives of the industry curious about laser manufacturing gathered for the 4th annual Lasers for Manufacturing Event at the Schaumburg Convention Center in Schaumburg, IL from Sept. 23 -24, 2014.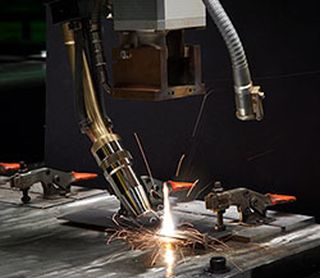 This year's LME expanded on exhibit space and hosted an increased number of exhibiting companies from last year. LME 2015 will be held at the Schaumburg Convention Center again on Sept. 16-17, 2015.
Key to Profiting from Laser Technology Presented at Lasers for Manufacturing Summit
The excitement kicked off a day prior at LIA's inaugural Lasers for Manufacturing Summit, which sought to inform participants on the global climate for lasers in manufacturing. C-suite and other top executives attended two keynotes: one on the economic outlook of the laser manufacturing industry, and one which provided a glimpse into the state of additive manufacturing/3D printing.
Following these keynotes was a presentation on AM at GE Global Research: its opportunities and challenges, and a presentation on ultrafast lasers, highlighting the market implications for their growing use. The education track at the Summit brought insight to the worldwide emerging markets, potential benefits of laser processes, and the future of laser technology.
Participants continued to seek answers to their manufacturing needs at the five-member panel of laser experts following the presentations. A question and answer dialogue was conducted with attendees to great success. The panel spoke on the current cultural climate in regards to the shortage of skilled labor available in the manufacturing industry, as well as the programs in place nationwide that are working to fill this gap.
Everything Laser and All Manufacturing at LME 2014
With nine live lasers at this year's LME, attendees experienced firsthand the laser systems and products of which they had come to learn. New LME exhibitors such as DPSS Lasers Inc. and Innovar Systems Limited brought live laser marking machines. DPSS Lasers Inc. drew a crowd by demonstrating their laser marking abilities by marking pens with attendees' names on them as giveaways. Longtime LME exhibitors Rofin-Sinar Inc. and LaserStar Technologies showcased their laser welding machines. Other live lasers at LME this year covered cutting and engraving applications.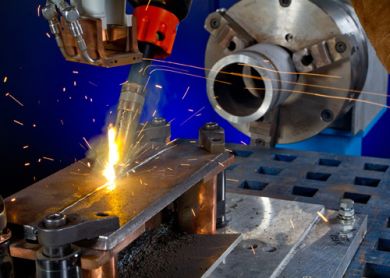 Andrew Wellons, manager of industrial sales for Gravotech, a new-comer at the LME exhibit hall spoke of his interaction: "The people we have talked to have had real interest in projects. Obviously [LME] is laser-focused, so expect to be talking to people who are very well versed in, and focused on lasers. There was some downturn a few years back, but it's been coming on pretty strong. [There are] a lot of new competitors -- a lot of very small companies." Gravotech brought with them CO2 and fiber gantry lasers, a 50 W galvo-steered fiber laser and a 3 W green laser to their booth, allowing potential customers a personal glimpse at their company's offerings.
Free Educational Courses Enhanced Value for LME Attendees
During the two days of LME, several educational courses covered topics on types of lasers to use for certain applications, laser welding, safety and the economic justification for laser application. These courses worked hand in hand with a pair of tutorials, one each day, on design guidelines for laser welding, and an overview of laser additive manufacturing systems, which helped equip company decision makers with the information they need to decide which type of laser systems to work into their manufacturing process. These educational courses along with keynote presentations were offered at no cost for LME attendees.
One of the main highlights every year at LME is the keynote presentation by David Belforte. Presenting his midyear analysis, LIA past president David Belforte noted that: "Industrial lasers for materials processing represent 11 percent of all machine-tool sales globally." Belforte continued his presentation, saying among other things that Global revenues from laser sales should increase by 5 percent by the end of 2014, energy and aerospace remain hot areas of opportunity in North America, and that modern smart phone design and manufacturing require about 15 laser functions. "Sapphire cover glass looks like the wave of the future, and if you look at the patents -- all of them include laser cutting."
Three other keynotes from experts in their field also illuminated market conditions and applications for laser cutting, laser additive manufacturing / 3D printing, and ultrafast lasers for use in manufacturing.
Want more information? Click below.