World's Largest All-Electric Cylindrical Cold Rolling Machine
Escofier (pronounced Es-co-fee-ay) has been a leader in cold rolling systems, recently celebrating its 90th anniversary.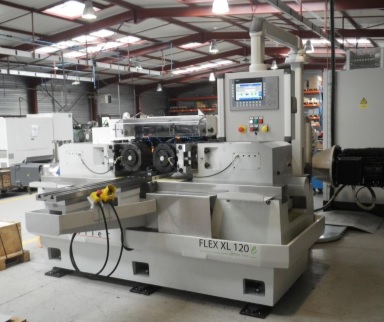 At its celebration, Escofier unveiled its newest, and the world's largest fully electric cylindrical cold rolling machine, the FLEX-120, a 120-ton fully electric machine. The Flex® series of machines are the apex of the Escofier line, providing maximum flexibility for part change over.
The Flex modular system comes in four sizes from 5 to 120 tons. Escofier's unique design, using electric cylinders instead of hydraulic, saves on electric costs and maintenance and is a cleaner, quieter system with less environmental impact from removal of hydraulic fluids.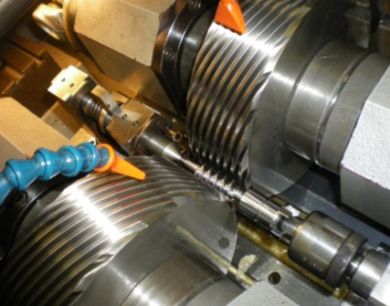 Cold rolling provides an alternative to traditional metal cutting of cylindrical parts such as threads, splines, gears, finned tubes, knurls, worm screws and various shapes. It can also used for powdered metal densification, thereby improving the mechanical properties , accuracy and life of powdered metal products. Escofier also offers semi-hot rolling systems for rolling titanium, inconel and other hard alloys typically used in the aerospace industry; a patented temperature sensing system ensures that heat is maintained at precise temperatures.
Cold rolling's advantages over traditional machining -- speed, cost, accuracy, consistency, minimal training, small footprint, environmentally "green" manufacturing -- make it a viable option for any high-production facility.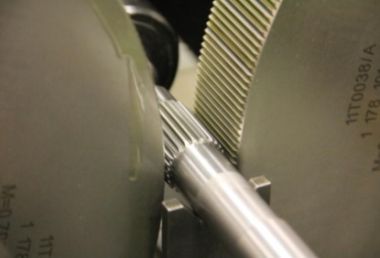 Reports on the improvement in speed sounds too good to be true. "Rolling parts can be completed in a fraction of the time of traditional machining," states Jean Claude Boyer, Escofier's president. Splines, for example, can be cold rolled in about three seconds, compared to several minutes using traditional metal cutting. In gear-finishing operations, a gear can be burnished in less than eight seconds at 1/70 the cost of traditional grinding operations. The machines run for decades with minimal maintenance and attention.
Want more information? Click below.