New Easy-to-Use, Flexible Hone Offers Servo-Precise, Digitally Repeatable Performance
From its advanced styling and touchscreen HMI to its digital repeatability, Sunnen's new SH-4000 is barely recognizable as the successor to a line of general-purpose honing machines that boasts 2,400 units in shops across the world.
This next-generation of power-stroked honing machines merges a Siemens touchscreen PLC and digital-servo drives with a patent pending servo-hybrid tool feed system, extreme repeatability, and clear adjustable guard/light curtain for faster, operator-friendly setups.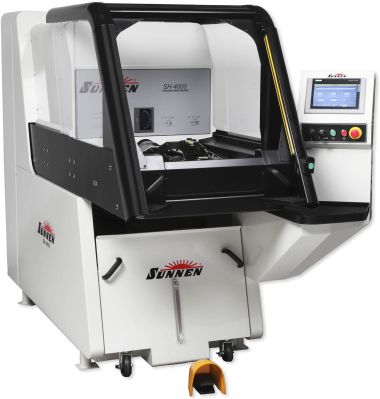 The SH-4000 is engineered as an easy-to-use, flexible hone for medium to high production of parts with bore diameters from 1.5 to 102 mm (0.060" - 6.50"). It is capable of processing a wide variety of part sizes and configurations, and cutting all kinds of materials quickly and efficiently. It features a 4.1-kW (5 hp) spindle drive and 1.1-kW (1.5 hp) stroker drive with 400 mm (15.75") stroke length. Spindle speed is infinitely adjustable from 200 to 3,000 rpm, with stroke rates of 10 to 550 SPM.
With 45 percent fewer parts and greater reliability than its mechanical predecessors, the SH-4000 introduces patent-pending digital-servo tool feed and cutting pressure control for consistent, predictable performance throughout the pressure range. Cutting pressure can be adjusted in 4.5 N (1 lbf) increments to a new maximum of 2,224 N (500 lbf), double the maximum of earlier models.
The digital system provides superior feed control at low pressures for improved honing results with small-diameter parts. The higher cutting pressure, plus two-step honing capability, ensures short cycle times. Two-step honing allows high stock removal coupled with a precise finish step, all in one operation. In addition, the new tool feed system includes 20 mm (0.79") additional travel for increased diameter range when using high-production MMT tooling.
The new servo ballscrew stroker delivers extreme precision and repeatability for honing in blind bores, while a longer stroke length of 400 mm (15.75") allows the new machine to take on deeper bores. For fastest setup, the machine's stroking system can be controlled with a joystick on the operator station.
The SH-4000 can use all the same tooling and fixturing as predecessor EC and ML machines, and a new true-running spindle with direct collet connection allows quick setup or changeover with MMT tooling. A quick-setting runout-adjustable adapter allows installation of standard Sunnen tooling, such as K mandrels. Side access to the workzone enhances operator ergonomics during setup and facilitates integration with part-handling automation.
Want more information? Click below.