Major Industry 4.0 Breakthrough: NC Machine Tool Simulation Software Now Offers Real-Time Synchronization
SPRING Technologies, vendor of solutions that maximize the productivity of NC machine tools, has released NCSIMUL Player 9.2, the dedicated viewer for NCSIMUL Machine, its realistic machining simulation solution. The new version features real-time synchronization.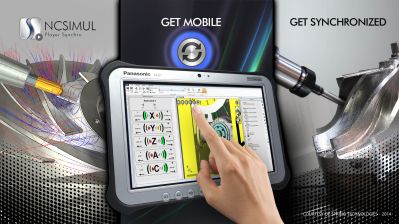 "Today we are proud to bring our customers NCSIMUL Player 9.2 and its "Synchro" option enabling them to connect a tablet to a machine tool and simulate a machining operation in real time. NCSIMUL Player Synchro embodies the vision for manufacturers that we defined more than two years ago: to provide ergonomic software solutions for machining and reduce the gap between the digital and real worlds."
What is NCSIMUL Player?
NCSIMUL Player is a free 3D viewer that enables NC users to simply and quickly share machining jobs in 3D. More than just a viewer, it brings the NC operators and other stakeholders on the shop floor, a fully interactive, collaborative and mobile experience with the NC program linked to the machining simulation.
New Approaches Deliver More Productivity
A machine operator needs to analyze, manipulate and interact with an NC machine and anticipate the constraints of the production environment. NCSIMUL Player associates the power of 3D with hands-on professional functionality, bringing extra assets to the shop floor.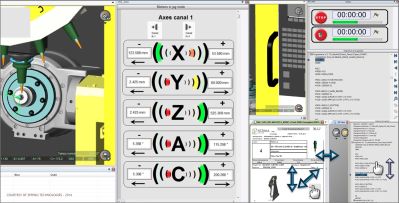 Innovating capabilities:
Integration of new technologies;
Real-time synchronization of real and virtual machining processes, bringing NC operators and shop managers unrivalled comfort to control their machines (accurate digital view of the machine context, simultaneous access to instructions, all synchronized with the real execution of the NC program) and full mobility;
Unique user experience.
The Main New Features of NCSIMUL Player Synchro 9.2
Integration of new technologies, perfectly balancing the real and virtual environments
Virtual: a professional solution. NCSIMUL Player Synchro 9.2 takes advantage of the latest enhancements to the machining simulation functions of NCSIMUL Machine 9.2, announced at the start of September 2014.
Real: the added benefit of perfect synchronization with the NC machines, plus the ability to view the machining operation on any media, including Panasonic's ultra-rugged Toughpad tablets.
Real-time synchronization: 3D simulation, instruction sheets and real-time machining;
Realistic 3D machining simulation with axis, spindle, and tool positioning and machining status, etc., enabling instant insight into the machining context.
Instruction sheets synchronized with the machining program (tool descriptions, process, operator actions, etc.) making the work of NC operators easier and cutting out errors of interpretation;
Anti-collision radars for each machine axis, in either manual mode (JOG) -- tool clearance or tool path -- or Auto mode, enabling totally secure decision making;
Adaptive timers managing/indicating machine downtime, tool changes, end of program, end of machining, etc., enabling significant time-saving and fully controlled, anticipatory multitask supervision.
Want more information? Click below.
Copyright © 2019 by Nelson Publishing, Inc. All rights reserved. Reproduction Prohibited.
View our terms of use and
privacy policy
::m::