Taps Featuring Advanced Geometry and New VHC Technology Ideal for Nickel Based Alloys
Emuge Corp. has introduced a comprehensive line of high-performance tools for threading demanding nickel / super alloy materials to 46 HRC. The new program includes tools ranging from taps with unique new geometry designs to reliable solid carbide thread mills designed for challenging Aerospace, Powergen and Oil industry applications.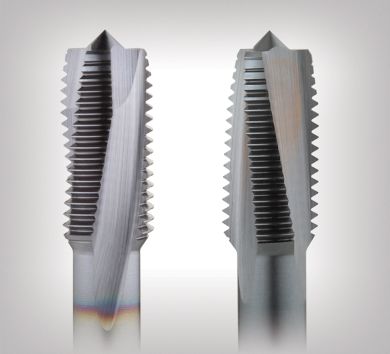 A full line of sizes from no. 4 to ¾" are available in UNC, UNF and Metric, 87 sku's in total.
Emuge's Nickel Alloy Program includes new DF-NI and C-NI taps. With Emuge's Variable Helix Correction (VHC) technology, DF-NI taps feature a specially ground relief geometry in the primary cutting zone that generates a smaller and tightly rolled chip formation for enhanced chip control to prevent damage caused by chips jamming in the tap teeth.
With a 10° Right Hand spiral flute, VHC taps are also available in STI thread sizes for jet engine components. New C-NI taps offer an Advanced Left Hand Helical Flute form with special rake and relief to optimize chip evacuation in the forward direction and add strength to the cutting teeth for enhanced tool life and process security.
Both taps are designed with special relief geometry in the chamfer and thread section to help overcome the high hardness and extreme elastic memory of precipitation hardened nickel alloys. Taps are manufactured with premium HSS-E and are TiCN coated for exceptional heat and wear resistance. Modified bottoming chamfer (2-3 threads on VHC taps) reduces torque and increases tool life. Taps are 3BX class of fit for internal UNJ threading applications. DIN length is available for improved chip clearance in hard-to-reach applications.
Mr. Mark Hatch, Emuge Corp. Product Director said, "From taps featuring our new VHC technology and new Advance Left Hand Flute design to solid carbide thread mills, the new program offers complete solutions for today's demanding super alloy challenges."
The new Nickel Program also encompasses a number of thread mill styles. THREADS-ALL Z-GF style thread mills require only eight stock standard tool sizes to produce 100+ commonly produced screw thread designations. They provide easy machining of difficult materials, one tool for through and blind holes and total control over pitch diameter limits.
SHUR-THREAD GFI-IKZ thread mills with internal coolant feature specially engineered multiple-spiral flutes to eliminate chatter, a large cutter diameter with high profile correction to ensure true-to-gauge threads and an extended milling portion which allows for 2xD length of cut.
Want more information? Click below.