Unique Super Slow-Motion Videos Show Interesting Perspectives of Milling Process
Precitech and Vision Research, both businesses of AMETEK, Inc., have partnered with Levicron, a German manufacturer of air-bearing spindles, to create unique slow-motion videos of ultra precision machining. Together they have released a second series of these videos, allowing viewers to see additional processes in detail not available until now.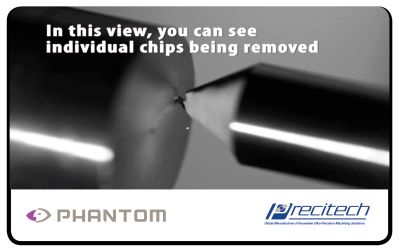 "This latest series of videos shows some interesting perspectives of the milling process. Of particular interest is the video filmed at ultrahigh speed in which individual chips can be seen being removed from the brass sample," notes Jeff Roblee, Precitech Vice President of Technology.
The initial video series, released in July, showed an ultra precision milling process using a Levicron high-speed milling spindle to create a brass lenslet. The first video in this series shows two different perspectives of this same process. The first segment is filmed at 500 frames per second (30k frames per minute) using a Phantom® Flex4K high-speed digital camera from Vision Research. Throughout the process the camera and spindle remain perfectly synched, capturing every other rotation of the spindle operating at 60k rpm, with the result that the tool appears to be stationary while creating the lenslet.
In the second segment, Vision Research's Phantom® v2010 ultrahigh-speed digital camera was focused on the tool at 40,000 frames per second. At this speed individual chips are seen being removed from the part. Both segments give viewers a unique perspective of the ultra precision milling process.
The spindle used in this milling video is a Levicron model ASD060-Cx high-speed, air-bearing, tool-holding spindle capable of operating up to 100k rpm. The spindle is specifically designed to be highly productive and robust and yet still achieves the tolerances required for ultra precision machining.
The second video in this series shifts gears from ultra precision milling to ultra precision diamond turning of infrared lenses. The first segment of the video shows the machining of germanium using a wide radius diamond tool. With a wide radius tool germanium lenses can be machined faster with comparable form and finish results than with a small radius tool.
A second segment shows the machining of silicon using a chamfered edge diamond tool. Silicon is a very challenging material to diamond turn due to the cutting forces required and the chemical reaction that occurs between the part and tool. Use of a chamfered edge tool is one method that has been experimented with to extend tool life when diamond turning silicon.
The milling and turning processes are both recorded on a Nanoform® X machining system. Precitech's latest small-frame lathe is designed for high productivity and ease of use in ultra precise diamond turning, milling, and grinding of optical lenses, mold inserts, mirrors, and precision mechanical components.
To watch the videos, click below.