IMTS Attendance Up 14%; Positive Vibe Felt Throughout the Industry
The 30th edition of IMTS -- The International Manufacturing Technology Show 2014 was the fourth largest IMTS in history and the largest six-day show ever with registration of 114,147 representing 112 countries. This was a 13.9 percent increase over IMTS 2012.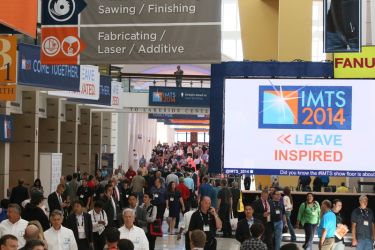 IMTS covered more than 1.282 million net square feet of exhibit space and hosted 2,035 exhibiting companies. IMTS 2016 will be held at Chicago's McCormick Place Sept. 12-17, 2016.
The application of additive manufacturing in a large scale application stole the show. News of the world's first 3D-printed car is still sweeping the nation from Chicago to Atlanta and from local stations to CNN. AMT -- The Association For Manufacturing Technology, Local Motors, Oak Ridge National Laboratory, and Cincinnati, Inc., collaborated to 3D print and assemble the first-ever electric car onsite during the six days of IMTS. On Saturday, Sept. 13, Jay Rogers, CEO and Founder, Local Motors and Douglas Woods, President, AMT, drove out of IMTS 2014 in the newly finished "Strati".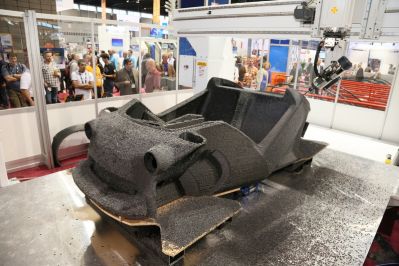 Printing began at the start of IMTS and only took 44 hours to complete. Made of carbon-fiber reinforced polymer, the same plastic as Lego® products, the car was printed on a large-scale additive printer by Cincinnati, Inc. The wheels and hubcaps were also 3D printed using the direct metal process.
The result is an electric car that drives at a top speed of 40 mph and only consists of about 40 parts, versus 20,000 parts in a regular car.
Multi-spindle machines, multi-tasking machines, automation/robotics, digital data integration, in-line quality assurance and additive manufacturing technology were stars on the show floor.
"During IMTS 2014 there was a universal vibe among exhibitors, visitors and even students, that manufacturing is now THE place to be," said Peter Eelman, AMT Vice President -- Exhibitions and Communications.
"Even more exciting to exhibitors was the fact that customers came with buying intentions and a confidence that has not been seen in the manufacturing industry in many years.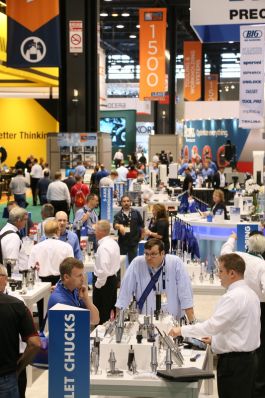 "A major concern among manufacturers is building a community of workers to fill their needs now and in the future," added Eelman. At IMTS this was addressed beyond all expectations by the Smartforce Student Summit which more than doubled in attendance over IMTS 2012 and captured the imagination of young people with the truly innovative technologies on display.
"The combination of the look of the show, the vibe of the participants and the groundbreaking nature of the projects on the show floor truly defined our marketing campaign. The industry came together and left inspired."
Significant Orders Booked During IMTS
The show had a remarkable display of new and emerging technologies that will continue to revolutionize the manufacturing world. These innovations, including digital data integration, automation/robotics, in-line quality assurance additive manufacturing, and traditional equipment, offer solutions to all manufacturers who seek increased productivity and lower cost. Sold signs could be seen throughout the show.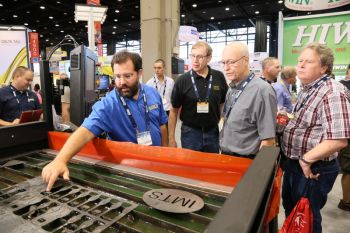 Co-Located Shows Enhanced the Value of IMTS for Both Visitors and Exhibitors
There were two co-located shows at IMTS: Industrial Automation North America (NA) and Motion, Drive & Automation North America (MDA NA). Deutsche Messe AG partnered with AMT to introduce MDA NA at IMTS 2014. Industrial Automation NA made its debut as a pavilion at IMTS 2012 and returned in 2014 as a co-located show.
Industrial Automation NA showcased the best in process, factory and building automation with products and solutions for production automation, metalworking and precision manufacturing. The inaugural MDA NA provided a networking hub of North America's power transmission, motion control and fluid technology sectors. At MDA NA, visitors had the chance to find the latest solutions and innovations in manufacturing, meet with key suppliers from all over the world, strengthen business network, and prepare and finalize purchases.
Lighting the Future in the Smartforce Student Summit
This year, the Smartforce Student Summit proved to be more successful than ever. During IMTS 17,767 students, educators, administrators and parent chaperones made their way through the event this year, almost double the number of students at IMTS 2012.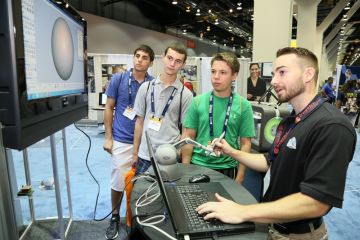 With more than 50 hands-on exhibits, the Student Summit was able to provide a fun and interactive environment to introduce educators, students and parents to exciting innovations in manufacturing technology and dynamic careers in the industry.
Students had the opportunity to see how much fun STEM (Science, Technology, Engineering, and Math) based learning can be in the Make It! area. There, students were able to try out new technologies and compete to see who could design and create the most effective 3D-printed wind turbine, courtesy of Rippl3D. The keynote speakers, including STEM celebrities like astronaut Captain Wendy Lawrence and Segway PT inventor Dean Kamen, shared insights on how these fun STEM experiences translate into careers. Once through the Student Summit experience, students were invited to visit the thousands of IMTS exhibits.
Today's Technology Center and Advanced Manufacturing Center Spotlight the Exciting Results of Applying Manufacturing Technology
Today's Technology Center (TTC) presented by GIE Media featured technology from the aerospace, automotive and medical sectors grabbed the attention of many entering the West building.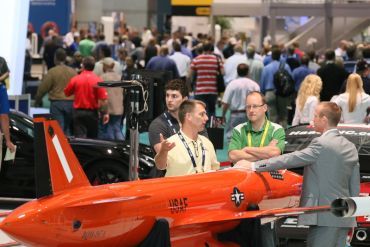 Advanced manufacturing in aerospace was one of the central themes with a 1/3 scale model (10 foot long) of the Dream Chaser® Space Utility Vehicle (SUV) being developed between Sierra Nevada Corp (SNC) Space Exploration Systems and Siemens PLM Software Group on display along with aerial target drones, built by Composite Engineering, Inc.
Two all-American dream cars were featured, including a 2015 Chevrolet Corvette that pushes the boundaries of materials, engine and transmission technologies and Stewart-Haas Racing's, No. 41 Kurt Busch Chevrolet SS, which can reach a top speed of over 200mph.
Aside from aerospace and cars, medical device technology as small as implants that are invisible to the naked eye or as large as an MRI machine were on display at TTC. Knee, hip, and shoulder implants; stents, pacemakers, and implantable defibrillators; bone screws and plates, were incorporated into a clear, life-sized display showing medical manufacturing's impact on people's quality of life.
Eelman concluded, "Plans are already underway for IMTS 2016. Most exciting is expansion of exhibit and Smartforce Student Summit space at the McCormick Place facility which promises to make IMTS 2016 perhaps the largest in history."
Want more information? Click below.