NOVO Software's Tool and Application Knowledge Dramatically Shortens Process Planning
WIDIA has launched its new NOVO™ desktop and tablet application -- on demand cutting edge delivery of cutting tool data and expertise for reduced product development and manufacturing lead times.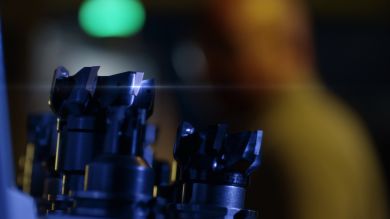 Getting the right tools with the right fit in the right situation is automatic with NOVO™ from WIDIA.
"NOVO™ data represents real WIDIA tools and how they fit, function, and perform over a variety of machining scenarios," says Bernie McConnell, vice president, WIDIA Products Group and Services. "Importing NOVO™ makes CAD/CAM programs more functional and valuable because the tools fit and move as designed. Implementing NOVO™ makes estimating and process planning a breeze because it supplies entire assemblies and spare parts lists with "best fit" functionality that otherwise takes hours of time finding in catalogs and product literature."
Thinking Like a Process Planner
"NOVO™ thinks like a process planner," explains Thomas Long, head of the newly formed Virtual Machining RDE department at WIDIA. "It works from the feature back to the tooling strategy. In addition, each order number is tied to application data gleaned from hundreds of subject matter experts and decades of WIDIA experience. Request a part number and you also get pictures, assemblies, spare parts lists, as well as inserts that fit. Not only does it accomplish in minutes what formerly took hours, it yields an optimized solution, backed by WIDIA expertise, every time."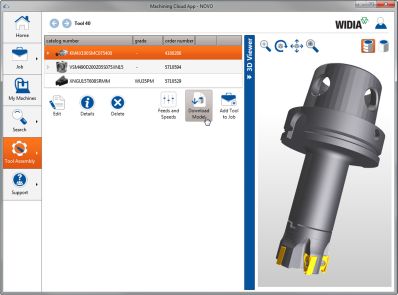 NOVO™ delivers 3D solid models along with complete parts lists for all components. Nothing is overlooked.
According to Long, NOVO™ assists shop personnel in a number of intuitive ways, from "I need to make a ½" hole x 1 ½" deep in ANSI 4140" to "I need a ½" by 5xD solid-carbide drill."
In the first case, NOVO™ helps users define machining features, drilling a blind hole in this case, and then immediately reduces the product set to those that can do the job, taking into account constraint requirements such as material, tolerance, and machining sequence for both single tools and multi-tools. NOVO™ then ranks the results -- based on knowledge-based rules -- to best meet the challenges of the application as defined by the customer's operating environment and user preferences, providing far more useful process knowledge than any online catalog alone, all obtained in a fraction of the time.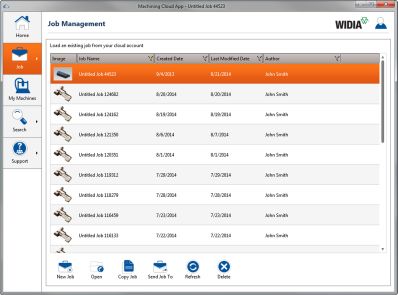 More than a catalog alone, NOVO™ provides process knowledge, giving users a range of strategies to best improve shop production.
In the second case, when a customer already has preferred tool and grade in mind, NOVO™ smart-attribute filters not only quickly select the products available to do the job, NOVO™ also gives the options on what cutting item and adaptive item fits and also works with the selected solution. NOVO™ smart filters take the task of selecting ALL cutting tool components from hours to minutes, while providing a comprehensive and accurate list of solutions based on customer input.
In both cases, NOVO™'s Tool Configurator then provides all CAD files and graphic support for all tool components and their assembly -- a major time savings for customers.
Mobility
Users can leverage NOVO™ via the tablet of their choice. "Mobility is no longer a luxury. With Android and Windows Tablet versions of NOVO™ now available, it brings an element of added mobility and access to your tool list no matter which device you log onto," says Chris Merlin, Marketing Manager for the Virtual Machining initiative at Kennametal. "This also makes it easy for people working on the shop floor with tablets to collaborate with the process planners in other departments."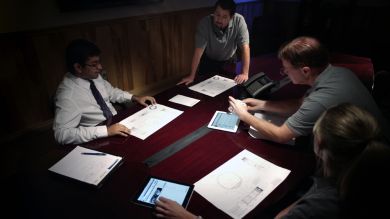 NOVO™ is accessible on tablets and mobile devices, bringing complete tool lists and decades of tool knowledge to the table quickly.
Kennametal and System Insights Partner to Deliver NOVO Optimize -- Powered by VIMANA
System Insights has entered into a partner agreement with Kennametal. Under the agreement, VIMANA-based tooling and machine optimization software technology will be marketed through the Kennametal sales channel under the NOVO Optimize brand.
"Kennametal has successfully partnered with SI over the last few years to co-create NOVO™ Optimize, which is the newest manufacturing intelligence application in the NOVOsphere™," says Colin Tilzey, director of Kennametal's Innovation Ventures Group. "It collects real-time data on how your cutting tools and machines are performing and also provides analysis of where process efficiencies or capacity improvements are available. Under this initiative, VIMANA becomes a key enabling technology for our NOVO Optimize platform and solidifies our relationship with System Insights."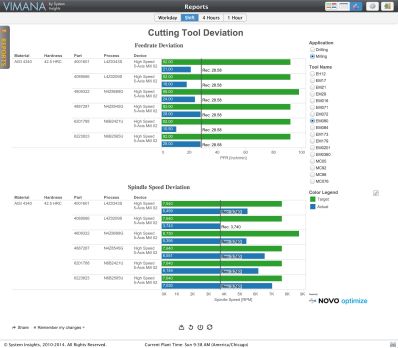 NOVO Optimize analyzes the deviation of the parameters at which individual tools were used and identifies best practices.
The machine optimization capabilities incorporated into NOVO Optimize were originally developed by System Insights and have been on the market for several years under the VIMANA Core brand. The new tool optimization capabilities, jointly developed with Kennametal, are now also available to System Insights clients as an add-on module called VIMANA Tooling.
Rick Moran, President & COO of System Insights, noted "The partnership with Kennametal is a major strategic win for the company. By working with the premier enterprise in cutting tool technology, we are able to leverage domain expertise for best of breed software and expand our market into a client base that number in the tens of thousands."
Want more information? Click below.