3 Key Places in Automation Cell Benefit From Zero-Point System
At IMTS, BIG Kaiser is showcasing Unilock -- a full-blown integrated and automated production cell.
Unilock zero-point automation systems can be implemented at various points of any automation cell. At IMTS, Big Kaiser is demonstrating Unilock at three key points: the machine table, the robot end of arm, and the pallet storage rack.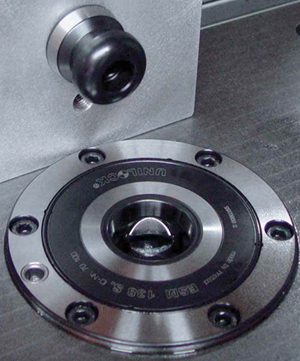 On the table of the Fanuc RoboDrill, they have installed the Unilock ASSF120 Automation Clamping Base. The clamping base incorporates the basic function of holding and locating the palletized part, but it can also provide pallet presence confirmation to the controller and air pass-through for other functions. The four locating stand-offs in each corner provide .0001"-.0002" relocation accuracy of the pallet, and are cleaned with every change of the pallet via an air blast.
On the Fanuc Robot arm, they have a Unilock RK1 Pallet Gripper. The RK1 gripper and its mating adaptor block, PKV1, which is attached to the pallet, allows the robot to pick up a pallet from either the machine or the rack without needing to touch the machined part.
The dual expanding mandrels of the RK1 also have air blow-off slits that clean the insides of the PKV1 bushings as the mandrels go past the entire length of the bushings, to prevent chip contamination of the mating surfaces.
On the rack, each pallet is located with the same four stand-offs as in the machine. This allows the pallet to be reloaded with raw material by the operator and relocated onto the rack with the same accuracy as the robot. This also eliminates the need for additional holes and features in the bottom of the pallet.
Want more information? Click below.
Copyright © 2019 by Nelson Publishing, Inc. All rights reserved. Reproduction Prohibited.
View our terms of use and
privacy policy
::m::