New Versatile Multi-Tasking Machine Processes Oil/Energy Parts in Single Setup
At IMTS 2014, Mazak will debut its new INTEGREX j-200S that brings value, precision and throughput to the production of complex medium-sized parts. During the show, the Multi-Tasking machine will make use of its twin turning spindles and milling spindle to process an oil/energy part complete in a single setup.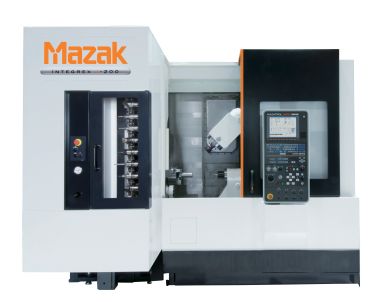 Both turning spindles on the INTEGREX j-200S provide equal high performance with spindle speeds of 5,000 rpm and C-axis turning control, though the main spindle has a 2.99" (76 mm) bore and the second spindle a 2.4" (61 mm) bore.
The main headstock features an integral spindle/motor that accommodates a wide range of applications, from heavy-duty cutting at low speed to high speed cutting of aluminum and other nonferrous materials. The rigidly clamped C-axis indexes in 0.0001-degree increments and delivers high accuracy. The second spindle also features an integral spindle/motor to ensure high efficiency machining for secondary operations.
The INTEGREX j-200S also includes a powerful 10 hp (7.5 kW) (optional), 12,000-rpm milling spindle that allows it to achieve 4-axis simultaneous machining and 5-axis tool tip positioning. The milling spindle unit indexes in 5-degree (optional 1-degree) increments over a total range from -30 degrees to 190 degrees, making it possible to perform outer diameter, facing and incline machining, with the same tool on either turning spindles.
Additionally, the milling spindle can be radially indexed and clamped so that the same tool can be used for turning in both forward and reverse directions, resulting in decreased machining cycle times and a reduction of tools within the magazine.
The machine comes standard equipped with a 20-tool magazine to ensure continuous machining operations, while the optional 36 and 72-tool magazines further reduce set-up times and increase machining flexibility.
The standard bed size of the INTEGREX j-200S offers a large machining area with minimum tool interference to cover a wide range of workpieces. Machine strokes of 37.8" (960 mm) in the Z-axis, 17.7" (450 mm) in the X-axis and 7.87" (200 mm) in the Y-axis allow facemilling, end milling and drilling to take place above and below centerline without C-axis indexing. Additionally, the machine's true Y-axis design creates a larger machine envelope, better tool reach, less interference and enhanced chip evacuation when compared to conventional machines.
Want more information? Click below.