"Shark Tank" Comes to IMTS
Hurco has named the seven finalists for the first ever Chipmaker Challenge Championship to be held Tuesday, Sept. 9th, at the Hurco IMTS booth.
Modeled loosely after the television show Shark Tank, Hurco decided to sponsor the Chipmaker Challenge to garner attention for manufacturing entrepreneurs. The winner will walk away with their choice of a brand new Hurco VMX42i CNC mill or TM8i lathe in addition to a tooling package from Sandvik Coromant.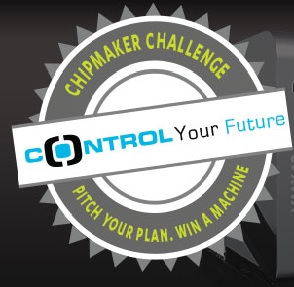 "We were extremely impressed by the high caliber of applications we received. This was a rigorous application process that required a substantial time commitment, and all of the applicants delivered. It was very close. So close, in fact, that we expanded the final field from five to seven," said Maggie Smith, Marketing Manager for Hurco Companies, Inc.
The application process was July 1-Aug 8. Participants answered a series of online questions related to manufacturing and business, and then were given an outline of subjects to cover in a written or video essay. On Aug. 30, in the second phase of the contest, the public began voting online for the finalist they think should win. The results of the online vote will be revealed at the Live Chipmaker Challenge Championship Sept. 9th.
The seven Chipmaker Challenge Finalists who will pitch their business plan in front of a panel of judges at IMTS are: Jordan Hill, Middle Coast Moldmakers, in Wisconsin; Jason Merrell, Wolfpack Motorsports, Inc., in California; Wade Moore, Moore Engineering in Connecticut; Ben Noordhoek, On Time Machining, in Michigan; Richard O'Neal, Zel Technologies, in Florida; Philip Paull, Excavating Solutions, LLC., in Indiana; and Dakota Sodergren, DKS Machining, in Washington.
Want more information? Click below.