New High-Speed "Cube" Ideal for Batch Milling Many Small Parts
At IMTS this year, DATRON Dynamics will launch the MLCube high-speed milling machine. This is the second machine in DATRON's new "Cube" series which represents the next generation of their German-engineered, high-speed machining technology -- designed for greater speed, accuracy, flexibility and industrial durability. This will be the first public demonstration of this machine in North America.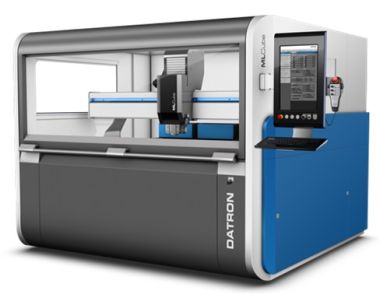 The MLCube is the big brother of the M8Cube, which will also be demonstrated at IMTS this year. The main difference is that MLCube has a larger 60" x 45" work area compared to 40" x 32" on the M8Cube.
According to Vice President, Robert Murphy, "Our machines excel at machining metals and engineered plastics. Because of its very large work area, the MLCube is ideal for nested or batch milling of many small parts from sheets of these materials and it can also accommodate long aluminum extrusions."
When working with sheet material, DATRON has a line of vacuum tables that can be integrated into the machine configuration for quick setup and workholding during the milling process.
The MLCube features brushless, direct drives on all axes that provide fast acceleration, feed rates up to 866 inches per minute and shorter cycle times. The machine can be configured with various high-speed spindles including a 1.8kW, 48,000 RPM spindle, a 2kW 60,000 RPM, liquid-chilled spindle and a 3kW, 40,000 RPM, liquid-chilled spindle.
The 3kW spindle delivers greater horsepower for heavier machining, as well as the flexibility to mill a wider range of hard materials. HSK-E 25 tool holders, available with the 1.8kW and 3kW spindles, offer additional precision and <1 micron run out.
Added functionality like palletized work-holding and advanced probing is available for manufacturers looking to reduce set-up time and increase part quality and uniformity. The MLCube is positioned for applications requiring a large work area and high spindle speed such as defense, aerospace, electronics, energy, medical part prototyping and production.
Want more information? Click below.