Astronaut to Speak at Smartforce Student Summit at IMTS 2014
Astronaut Wendy Lawrence will deliver a keynote address on behalf of Sally Ride Science on Wednesday, September 10, during the Smartforce Student Summit at IMTS 2014. Sally Ride Science® provides tools for college and career readiness that can build students' passion for STEM fields and careers.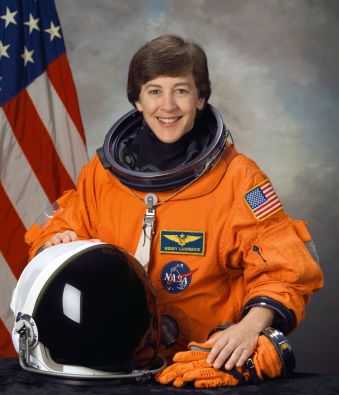 Astronaut Wendy Lawrence
The Smartforce Student Summit is held in conjunction with IMTS and gives students a first-hand, interactive view of manufacturing technology, in addition to promoting careers in the industry.
"One of the primary issues facing U.S. manufacturing is a lack of workers who have the required advanced and high-technology skills necessary in industry today. The Smartforce Student Summit is a great way to educate students, teachers and parents about the career opportunities in manufacturing," said Greg Jones, Vice President - Smartforce Development, AMT.
"Additionally, it's imperative to generate interest among girls and young women for careers in STEM fields, including manufacturing. Astronaut Wendy Lawrence and Sally Ride Science are a natural fit for bringing this message to the attendees at the Smartforce Student Summit."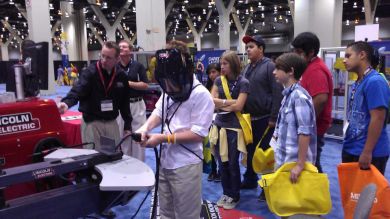 Smartforce students at IMTS 2012
Founded in 2001 by Dr. Sally Ride, America's first woman in space, Sally Ride Science brings science to life for upper-elementary and middle school students, and offers professional development via the Sally Ride Online Academy, helping educators incorporate engaging career-focused approaches into their existing instruction. Through teacher training programs, books and eBooks (e.g., the Cool Careers and Key Concepts in Science series), and various events and services, the company shows students that science is creative, collaborative, fascinating, and fun.
"A focus of my keynote will be on the lasting impact teachers -- and anyone, really, such as the STEM professionals at the Summit -- can have on students when they expand STEM topics 'beyond the classroom' and connect them to careers," said Lawrence. "Once students can envision themselves as a marine biologist, engineer, astronaut, or other STEM professional, there is really no stopping them."
The Smartforce Student Summit at IMTS will be held from 9 a.m. -- 3 p.m., September 8-13, 2014 at Chicago's McCormick Place.
Want more information? Click below.