Okuma and Boeing to Share Their Programming Expertise With Demonstration of New STEP-NC ISO Standard at IMTS
During the upcoming IMTS 2014 show and the Trends in Advanced Machining, Manufacturing and Materials (TRAM) Conference, Boeing and Okuma will share their experiences in technology leadership with a new implementation of the STEP-NC ISO standard.
At 11am each day of IMTS, in the Okuma booth, David Odendahl, Associate Technical Fellow at The Boeing Company, will do a short presentation, complete with titanium cutting demonstration, to briefly discuss the optimization of programming with STEP-NC.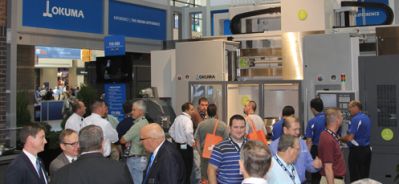 At 3 p.m. each day in the South building conference room #S-103e, attendees can meet with representatives of the companies involved in making this presentation possible. Representatives can answer attendee questions and discuss specific applications.
Jim Kosmala,VP of Technology at Okuma America Corporation and David Odendahl, Associate Technical Fellow at The Boeing Company, will present on Wednesday, Sept. 10 at 2:20 p.m. during the TRAM Conference.
Commercially available implementations act as a universal CAM translator, similar in some ways to what MTConnect does for data transfer. This allows end users to leverage multiple tooling suppliers using a variety of CAM packages that provide optimized cutting paths resulting in reduced cycle times and increased tool life by taking advantage of the latest in tooling technology. These optimized tool paths can be incorporated into one STEP-NC file that retains process knowledge, not just the axis motion of G-code, for:
Portability or transfer of operations from one plant to another
Process retention, i.e., storing the process for future manufacturing use
Evaluating suppliers and solutions
Attendees will walk away with a better understanding of STEP-NC, its evolution and role in the programming environment, and its practical applications.
The part being machined during the demonstration is a test part developed by Boeing Commercial Airplane. This titanium part will be machined using the original Boeing process, and then two optimized processes. A new CAM file simulator on the PC-based, open-architecture OSP control will direct the machining and validate the design and manufacturing requirements.
Want more information? Click below.