NC Turning and Swivel Unit Turns Ordinary Machine Into Highly Dynamic 5-Axis Machining Center
The Heckert HEC 800 X5 MT 5-axis machining center features a pallet size of 800 mm x 800 mm, a rapid-rotation table for turning, and a combined NC turning and swivel unit, which turns ordinary machines into genuine 5-axis machining centers.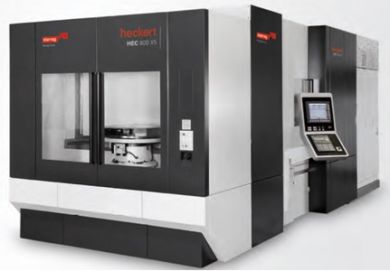 Product Manager Michael Melzer says: "The combination of highly dynamic 5-axis machining and turning operations allows efficient complete machining of complex work pieces on a single machine."
Reducing the number of clamping positions required and eliminating additional machining operations on other machines helps to cut unit production times and stoppages, as well as improving the production accuracy. This brings competitive advantages that allow the investment to be amortized relatively quickly.
Among other things, the Heckert machine is distinctive for long-term workpiece accuracy (7 µm) -- even when changing between rough machining and finishing -- and excellent production process reliability.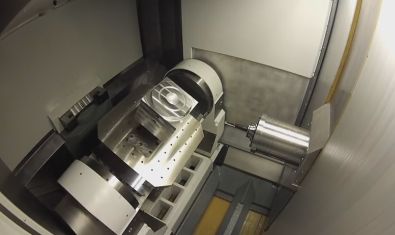 Reduction of unit production times and stoppages, along with the use of energy-saving drive concepts, ensure a significant improvement in efficiency, leading to crucial cost reductions. The CNC Fanuc 3i -- a high-performance control system for complex machine applications with many axes -- increases the machine tool's accuracy, reliability and operation even further.
Users also have the option of acquiring the HEC 800 X5 MT with a Siemens SINUMERIK 840D sl.
To increase productivity, the innovative machine has three linear axes (X, Y, Z), which deliver a rapid feed of up to 60 m/min and acceleration of 7 m/s². The rotational axis also has plenty to offer in terms of its performance. The NC rotary table provides rapid rotation of 60 rpm, and up to 500 rpm for turning.
Another special feature of the new machining center is its safety management in case of a power failure. The "Safe Shutdown" option allows the axes to be brought to a controlled stop and then clamped. Hydraulic clamping of the rotation axes and a mechanical pallet clamping system provide additional security.
To watch video, click below.