2 New Cutters That Cut Milling Costs
KOMET has introduced two new solutions for milling tools. They are the Quatron hi.feed milling cutter, suited for the removal of large quantities of metal, and the hi.aeQ face-milling cutter, which is designed for shoulder- and face- milling cast iron. Both tools are unrivaled in their design and applications, and are unique in the milling industry.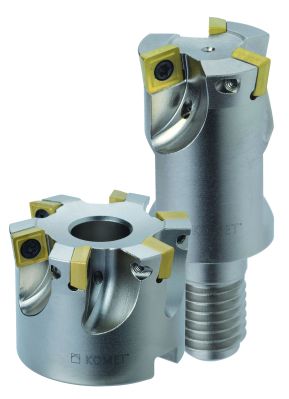 Komet's Quatron hi.feed milling cutter
The Quatron hi.feed milling cutter, inspired by the successful line of KUB Quatron drills and using the same inserts, is designed for a variety of milling operations, including plunge milling. Plunge milling, ideal for cutting deep grooves and large cavities in applications that require large projection lengths or are subject to unstable conditions, requires a high performance roughing tool that can quickly remove large quantities of material, and the Quatron hi.feed is designed with these needs in mind.
The Quatron hi.feed is ideal for cost-effective milling, and this is evident in many aspects of its design. Users benefit from an indexable tool with four cutting edges per insert, reducing production costs per cutter. The inserts are composed of tough substrates, suitable for use with steel, cast iron, and stainless materials. The high volume of chip removal achieved with the Quatron hi.feed, along with its namesake high feed rates, allow for increased productivity and reduced run times, making this tool the ideal choice for cost reduction without sacrificing performance or quality.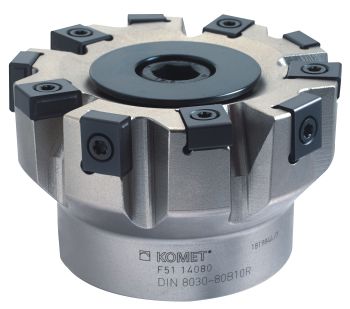 KOMET's hi.aeQ face-milling cutter
Equally impressive is KOMET's hi.aeQ face-milling cutter, which is ideal for the shoulder and face milling of cast iron workpieces, as well as for counter-boring and milling operations. The nickel-plated body of the hi.aeQ features tangentially positioned Q80 indexable inserts, which are fitted in an alternately standing/lying arrangement. In addition to offering a high number of cutting edges relative to the tool diameter, this unique design affords the hi.aeQ high stability and low vibration. As such, customers benefit from a higher cutting efficiency and lower power consumption, along with quieter operation and reduced spindle loads. Each indexable insert has eight usable cutting edges, making this tool particularly cost effective.
The hi.aeQ is available in diameters ranging from 63 mm to 160 mm, with additional diameters set to be released soon, allowing for a range of uses.
Want more information? Click below.