Wider Wheels on New Grinder Allow for Heavier Stock Removal
Royal Master Grinders will be introducing its new centerless grinder, the TG-12x8, at IMTS 2014.
Available in Infeed, Thrufeed, as well as Hi-Accuracy and CNC versions, this machine has a diameter capacity of 3" ( 75mm) in diameter. It offers a grinding wheel diameter of 12" (300mm), a regulating wheel of 8" (203mm) diameter, both being 8" (203mm) wide. The advantage is clear, wider wheels allow for heavier stock removal for thrufeed grinding, multiple parts for infeed grinding, and in some infeed applications like titanium fasteners, a direct replacement for older increasingly unavailable rebuilt machines for Cam-Out applications.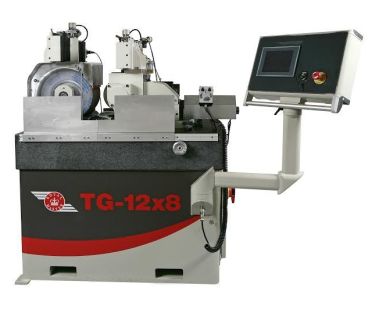 The grinding wheel spindle design, has 4" (100mm) diameter bearings, with three sets of class 7 ABEC angular contact Timken bearings. It is inside a larger headstock with an outboard bearing for a twin grip design. This design gives the grinding wheel superior accuracy. The regulating wheel with its 2.25" ( 57mm ) spindle and Timken bearings allows for the most demanding applications to be ground with zero deflection of other machines with smaller spindle designs. The 8" ( 203mm) diameter regulating wheel allows for CAM-out projects as for each rotation of the regulating wheel one cycle is completed.
The machine sits on an 8" ( 203mm ) thick Starrett surface plate quality granite. The .0002" ( 5 micron) flatness specification forms a perfect platform for such a robust spindle design. The granite known for its rigidity and thermal properties provides a superior platform to other machines on the market that have thinner cast iron beds, and makes it as strong as those who have machine platforms twice the physical size of the TG-12x8.
Applications such as titanium bar stock, PCD diamond tools, and hard carbides are pedestrian for this machine. The TG-12x8 looks for larger diameter applications.
The TG-12x8 is available for all types of loading applications including pick and place, robotic, and bowl feeding.
Want more information? Click below.
Copyright © 2019 by Nelson Publishing, Inc. All rights reserved. Reproduction Prohibited.
View our terms of use and
privacy policy
::m::