New Heavy Duty Universal Milling Machine Offers Single Setup for Complicated Jobs
Methods Machine Tools, Inc. has announced the addition of a heavy-duty universal milling machine to the extensive FEELER/Methods line, that performs both vertical and horizontal machining, eliminating the need for multiple set-ups and operations.
The new FEELER SBM-2000 Universal Milling Machine features an articulated head and integrated 4th axis for optimum cutting flexibility. The machine's size, design and high rigidity make it ideal for energy/oil field and other demanding machining applications.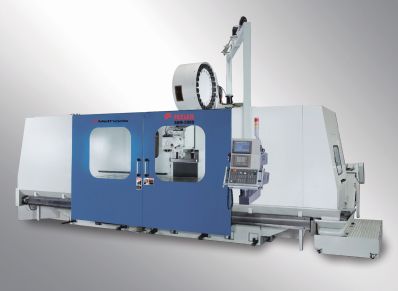 The SBM-2000 features a standard horizontal milling head with a spindle speed of 4,000 rpm. and an optional automatic vertical/ horizontal milling head with spindle speed of 3,500 rpm. The machine allows for a single setup for complicated jobs by providing multi-angle and side machining capabilities for increased flexibility, machining efficiency and cutting accuracy.
Unlike conventional machines, a long 79" (2,000 mm) X-Axis, combined with a narrower Y-axis and a bed positioned close to the machine doors, provides easy access, further facilitating flexible, fast set ups. The vertical axis is counter-balanced by a hydraulic cylinder, ensuring exceptional stability to the milling head and the ram assembly.
The FEELER SBM-2000 features high-precision and pre-tensioned ball screws which ensure maximum axial rigidity. The X-Axis is equipped with a roller-type linear way for enhanced table loading capacity. For maximum machine integrity, FEM analysis is used when manufacturing the SBM-2000, to ensure dynamic and static accuracy and excellent overall structural stability. A BT50 precision standard horizontal spindle is driven by an AC servo motor via a two-step transmission gearbox to supply high torque that provides superb, heavy duty cutting performance.
"With its versatile, stable design, integrated 4th axis and articulated head, the SBM-2000 provides maximum flexibility and fast, accurate cutting on large, difficult workpieces," said Mr. Dale Hedberg, FEELER Product Manager, Methods Machine Tools, Inc.
The FEELER SBM-2000 features a 79" x 39" (2,000 mm x 1,000 mm) working area with a maximum table loading capacity of 11,023 lbs (5,000 kg). It also offers an X-Axis travel of 79" (2,000 mm), Y-Axis travel of 47" (1,200 mm), and a 39" (1,000 mm) Z-Axis travel.
The SBM-2000 comes standard with the user-friendly FANUC 32i control, a programmable coolant system, an automatic lubrication system, a chip auger and chain type conveyor, automatic power off, a spindle cooling system and more. HPCC high-speed machining mode and a 4th-axis rotary table are optional.
Want more information? Click below.