New Methods and Tools for Sustainable Manufacturing
The EU-funded SustainValue project has yielded several new tools and methods for promoting sustainable business development and performance management.
Among the solutions developed was a governance model for organizing and managing business networks in line with the principles of sustainable development. VTT Technical Research Centre of Finland led the development of this model.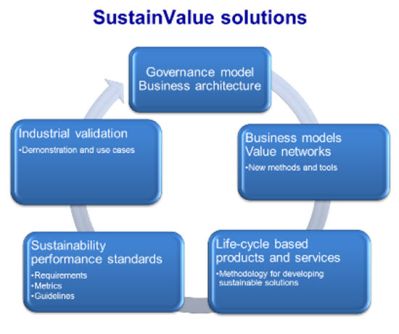 "In practice, the model consists of a manual with step-by-step instructions on what to take account of and what tools to use in development processes such as redesigning business models or selecting partners for networking initiatives," explains Project Coordinator, Senior Scientist Teuvo Uusitalo from VTT.
The model is designed to promote sustainable business development, by pooling the know-how of networking partners more efficiently throughout the life cycle of products and services. It is hoped that the model and the associated perspectives and tools prove particularly helpful to the development of existing networks.
Towards More Transparent Life Cycle Cost Management
The project also developed a tool that can be used to estimate life cycle costs and compare investment alternatives. The novelty of the LCC tool lies in the fact that it enables businesses to communicate with clients on the life cycle costs of different solutions. Buyers often focus on the purchase price alone, which in many cases represents only a fraction of a product's life cycle costs. The new tool presents life cycle costs in a clear and transparent manner.
The tool was developed by VTT and the Finnish company Elcon Solutions Oy.
"Our clients often choose their suppliers based on price alone. However, we have noticed that the original investment actually accounts for less than 10 percent of a system's life cycle costs. Our clients have lacked the proper tools for verifying life cycle costs. This project has allowed us to develop just such a tool.
The LCC tool provides our clients with the knowledge they need when drawing up cost-effective system specifications. Today's solutions and investments will have a direct impact on the well-being of future generations. It is therefore extremely important that the industry begins to look at the bigger picture instead of always opting for the cheapest offer," states Managing Director Kari Frankenhaeuser of Elcon Solutions Oy.
The project also yielded new methods of adopting sustainable business models, including a novel approach to business model development, a value mapping tool and a library of sustainable business models. University of Cambridge led the development of these methods.
Among the other contributions of the project includes a specific approach and a method to manage competitive performance in manufacturing network, and a continuous improvement platform for manufacturing industry. This task was led by Centre for Industrial asset management (CIAM) of University of Stavanger, Norway.
Another outcome of the project was a model supporting sustainable product and service design. This model encompasses simulation techniques that can be used to assess the economic, ecological and social impacts of a product or service and to model maintenance alternatives. Responsibility for developing the model -- which is designed to facilitate decision-making at different stages of product and service development -- and the related simulation techniques was assigned to the Institute for Industrial Management at the RWTH Aachen University in Germany and the Politecnico di Milano in Italy.
A sustainability performance framework was developed for monitoring the effects of business on the environment and society. The framework can be used to evaluate the sustainability of value networks. The framework includes various performance indicators, as well as a tool for assessing a business' level of maturity. Instructions have been drawn up on how to make use of the framework. This development was led by the University of Stavanger in Norway.
To view the report, click below.