Innovative Twin Turret Grinder Performs OD and ID Grinding, Process Diameters, and Faces in Single Fixturing
Fives will unveil an entirely new, multi-spindle, twin-turret, high-flexibility precision OD and ID grinding system at IMTS.
The new Landis Twin Turret™ (LTT) grinding machine's unique design features two rotary hydrostatic turrets with integral servo motors and X-axis hydrostatic ways with linear motor in-feed. The Landis LTT grinder can handle work pieces with a swing up to 180 mm and lengths up to 400 mm using CBN wheels up to 350 mm in diameter and 40 mm wide at wheel speeds up to 120 m/sec.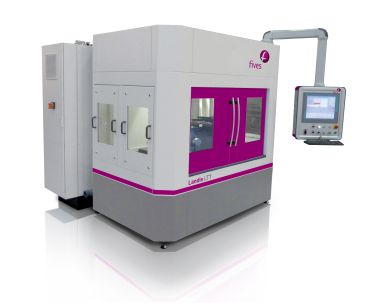 The Landis LTT sets a new benchmark for processing efficiency and flexibility for a broad range of shaft-type parts. It can perform OD and ID grinding, process diameters and faces in a single fixturing, grind tapers with unprecedented ease and precision, and do it all with an exceptional level of reliability and precision.
"What really makes this machine unique is the fact that we have achieved a very high level of performance in a package that uses as little as half the floorspace of a conventional grinder with similar workpiece capacity," explained Tim Hykes, Director of Technology at Cinetic Landis Corp. "Moreover, the Landis LTT is so flexible that it can perform multiple operations on shaft-type parts in a single fixturing that now typically require two or three separate machines, plus costly precision fixtures and inter-machine automation."
The Landis LTT can do eccentric and concentric multiple-axis contouring in various traverse configurations with optical levels of precision. The design completely eliminates mechanical backlash through the use of linear and radial servo motors for all motions, and achieves high system stiffness and damping with hydrostatic spindle bearings.
No ballscrews, gears, vee- or flat guide ways nor linear rail systems are used in the new grinder, making the Landis LTT extremely reliable and easy to maintain. Additionally, the standard open-architecture Landis 6400 CNC control provides maximum operational flexibility along with advanced monitoring and control capabilities, comprehensive gauge integration and ease of programming.
The Landis LTT is ergonomically designed, with a low, 1,125mm load and access height. This also makes the system easy to integrate with standard industrial robots for part loading/unloading, eliminating the need for special automation or gantry systems in many applications.
Features of the new Landis LTT grinding system include automatic wheel balancers and a variety of available in-process gauges, touch probes, chucks and work drive.
Want more information? Click below.