Uniquely Designed Micro-Drill Reduces Chipping on the Cutting Edge
Kennametal has introduced its first microdrill -- the GOdrill™.
The GOdrill is specially designed for holes in the range of 1 to 12.7 mm (0.0394 to 0.5 inches) diameter. Due to its unique design, the GOdrill expands the advantages of modular drills into the small-diameter range. High-end material grades, a wear indicator coating, and new, proprietary geometries allow shops to fully utilize the tool life capacity of the drill.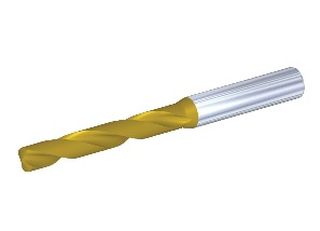 Its unique design makes the GOdrill a very versatile tool to be used in a broad variety of materials and workpieces. The proprietary marginless design reduces friction and heat, while its straight cutting lip with protection chamfer allows no starting point for wear and an even distribution of cutting forces. This results in longer tool life in all materials due to less chipping on the cutting edge.
Built on Kennametal's proprietary KC7325™ grade of solid carbide, the GOdrill also features a multilayer TiAlN-based coating for high hot hardness. This not only enables high cutting speeds, it also provides excellent holemaking, even in minimum-quantity lubrication (MQL) situations. A second TiN top layer serves as a visual wear indicator, useful for achieving full tool life in microdrills.
GOdrills are available in solid (flood coolant) or through-coolant options and are excellent first choices in a wide range of materials and applications, including fuel systems and precise medical components. For drilling small diameters with high quality, GOdrills are an excellent and cost-effective tool for a growing range of microdrilling tasks.
Want more information? Click below.
Copyright © 2018 by Nelson Publishing, Inc. All rights reserved. Reproduction Prohibited.
View our terms of use and
privacy policy
::m::