New Grinding Machine's Two Vertical Spindles Enable Multi-Level Machining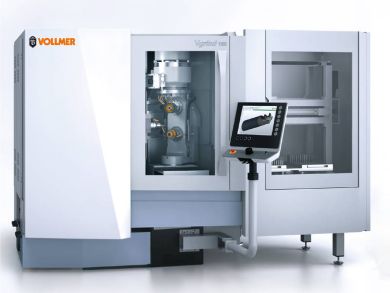 With the new Vgrind 160 grinding machine for solid carbide tools, Vollmer is entering the worldwide market in the area of tool grinding. From a technological point of view, the Swabian grinding and erosion machine specialist is literally expanding into a new dimension: Thanks to the two vertical spindles, multi-level machining can be carried out for the first time using the Vgrind 160. This enables tool manufacturers to produce large numbers of solid carbide milling cutters and drills quickly and precisely. The Vgrind 160 will be presented for the first time at GrindTec 2014 in March.
Machining Solid Carbide Milling Cutters and Drills
With the Vgrind 160 grinding machine, five CNC-controlled axes ensure precise machining of workpieces. Using the Vgrind 160, tool manufacturers can produce solid carbide drills and milling cutters with diameters between 2 and 20 millimeters. The core of the Vgrind 160 is the new kinematics system, which is controlled by two vertical spindles. This is because, unlike with a single spindle or horizontal double spindle, multi-level machining can be carried out thanks to the vertical arrangement. In addition, the spindle arrangement solves the common problems related to fixed and floating bearings, which leads to more precise results when machining workpieces.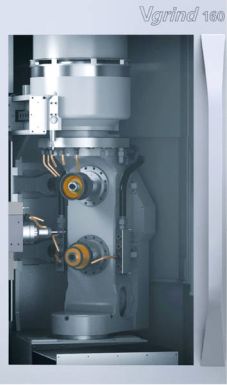 Speeding up Production Around the Clock
Thanks to short linear axis travel distances and swivel ranges, the Vgrind 160 enables you to reduce machining times for machining workpieces. Non-productive times are shortened because tool manufacturers can load the two grinding spindles with different tools. An optional tool magazine with six grinding wheel packages enables tools on the vertical spindles to be changed over automatically. The pallet magazine for up to 550 workpieces, as well as further automation solutions, ensures optimal utilization of the machine, around the clock.
Achieve Precision Across Several Levels
The Vgrind 160 achieves more precise results thanks to multi-level machining, as a workpiece is only ever machined on the fixed bearing side of a grinding wheel set. In addition, the grinding wheel set is always located at the C-axis pivot point, which allows an accurate sharpening process. A further guarantee for precision and accuracy is the polymer concrete design of the machine, as this solid foundation provides improved damping and vibration behavior. The design and the new wall concept of the Vgrind 160 lead to a compact and stiff construction with low space requirements.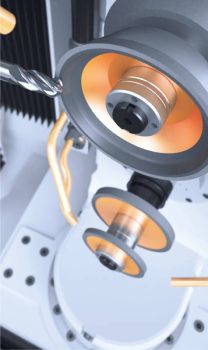 Intuitive Operation with Established Software
Operation of the Vgrind 160 can be easily and individually adjusted thanks to a height-adjustable, pivoting control panel. The display can be positioned so that not only does the operator have an optimal view of the graphic interface, but the work area also remains visible. To control the Vgrind 160, Vollmer uses the software NUMROTOplus, which offers comprehensive applications for the production and resharpening of various tools.
Want more information? Click below.