Universal Robots Expands Production Capacity; Sets Sight on Tenfold Increase in Revenue for Robot Arms
Universal Robots, the Danish manufacturer of industrial robots, has celebrated the opening of its new company headquarters in Odense, Denmark. Moving into new facilities will extend production capacity considerably, hereby underlining the ambitious growth plans of the company -- a target of $185M in revenue by 2017, a tenfold increase compared to Universal Robot's 2013 revenue.
Totaling 12,000 square meters, the new headquarters will be seven times bigger than the former Universal Robot domicile. The move underscores Universal Robots' ambitious goal allowing the Danish manufacturer of lightweight robots to keep expanding at a rapid pace in the years to come. Ever since the first UR robot hit the market in December 2008, the production has doubled annually, reaching the limits of the company's old production facilities.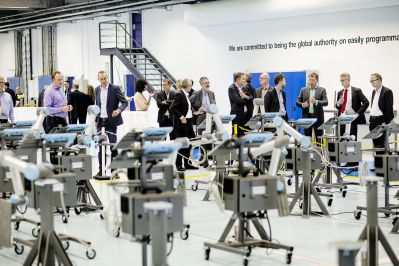 "Our new premises allow us to increase daily production to more than 150 robots. This expansion of production capacity is urgently needed, as we plan to sell 2,000 robots in 2014. Furthermore, we plan to keep doubling our sales every year from 2014 to 2017," says Enrico Krog Iversen, CEO of Universal Robots, outlining the growth ambitions of the company.
The success story of the Danish manufacturer of lightweight robots began in 2008 as a university research project starting out with 5 employees, a number which has now grown to a staff of more than 110. Aside from production facilities and sales offices, the new domicile also includes the Universal Robots Advanced Training Center.
The opening in April was attended by government officials, investors, business representatives as well as Universal Robots staff and partners.
Universal Robots is a result of many years of intensive research in robotics. The product portfolio includes the UR5 and UR10 models that handle payloads of up to 11.3 lbs. and 22.6 lbs. respectively. The six-axis robot arms weigh as little as 40 lbs. with reach capabilities of up to 51 inches. Repeatability of ± .004" allows quick precision handling of even microscopically small parts.
The collaborative robots can quickly be moved around the production sites and are easily integrated in all industries -- from the small machine shop to the large auto assembly line. ROI is typically 3-8 months.
Want more information? Click below.