New 5-Axis ''Super Profiler'' Sets Metal Removal Record, Machining Titanium 100+ Cubic Inches per Minute
Fives' new 5-Axis Cincinnati XT "super profiler" has broken the "sound barrier" in aerospace titanium machining by demonstrating a 100-cubic-inch-per-minute metal removal rate (MRR) during test cutting prior to customer shipment.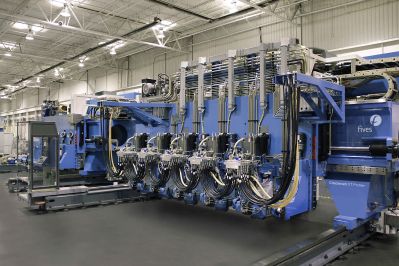 According to Chip Storie, Fives Cincinnati Executive Vice President, the 5-axis, 5-spindle XT profiler is engineered and built for maximum dynamic stiffness and sustained power in titanium roughing operations to meet the industry's need for maximum throughput and investment return.
"The industry needs to set new standards for producing titanium parts at the lowest cost per piece, and the XT Profiler provides that capability and more," he emphasized. "This machine is in a performance class by itself, equipped with a massive cross rail and robust spindle design that enable it to perform at this high rate on a sustained basis. We expect to exceed 100 cubic inches per minute metal removal once the machine is married to its dedicated foundation and high-pressure coolant system. This demonstration is only the beginning, and is going to change the way the industry approaches titanium machining."
Director of Technical Sales Randy Von Moll added: "This is the stiffest 5-axis profiler we've ever seen in action, able to make these demanding cuts in titanium with ease. The machine peeled off perfect '6-shaped' chips with no chatter or sign of structural instability. The part finish was excellent and it was a remarkable demonstration that exceeded our highest expectations."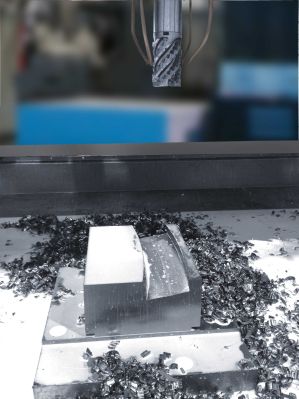 The new 5-axis gantry design utilizes the same high-stiffness frame as the previously introduced 3-axis XT model. "The 3-axis version of this machine really proved itself, and the new 5-axis version builds on the success of the platform," Von Moll added. "We set demanding requirements for the 5-axis model, and our engineers stepped up with a completely new approach that is superior to anything else on the market. This is a major breakthrough in gantry design that gives our customers significant new capabilities. Accuracy will be on par with the 3-axis design. The A/B rotary axes on each spindle can be independently calibrated and controlled to enhance accuracy."
The gantries have a 3.8 m (145 in) Y-axis range, with a Z-axis travel of 711 mm (28 in). Each spindle's angular A and B axes can travel ± 30 degrees. The machine tested is equipped with five 52 kW (70 hp) spindles, and each spindle can deliver up to 1,345 Nm (986 ft lb) torque into the cut at 40-7,000 rpm. The alternative high-torque spindle with HSK 125A tool interface is rated 51 kW (68 hp) and produces 2,523 Nm (1860 ft lb) S1 torque with a maximum speed of 3,500 rpm.
"A multi-spindle machine that can rough and finish titanium at this rate provides our customers with a strategic advantage," Von Moll explained. "A single-spindle machine runs at roughly the same speeds and feeds, yet our machines complete five parts in the same cycle time, so we are much more efficient and the result for our customer is a much better return on investment with lower risk."
Want more information? Click below.