Revolutionary "Pick-and-Place" Direct-Drive Component Achieves Speed Over 100 Cycles per Minute with 0.01mm Repeat Accuracy
WEISS North America, Inc. (Willoughby, OH), has introduced its revolutionary HP70 Pick-and-Place direct-drive component that is thinner (60 mm wide) than any linear motor or pneumatic module on the market today. Despite its uniquely compact design, it surpasses all previous Pick-and-Place units when it comes to achieving speed over 100 cycles per minute with repeat accuracy of 0.01mm.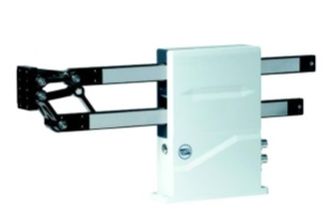 Key to the HP70's design, is a new drive concept that works with two linear motor axes that feature a unique 'knuckle' design on the y/z axis that virtually eliminates the need for another linear motor for the z axis. Essentially, two horizontal axes with 125, 225, or 325mm stroke length are arranged in parallel above one another, and then connected via a kinematic unit. This guarantees a vertical stroke of 70mm.
Unlike most other units, the HP70's two axes do not run vertically towards one another. If a unit has one horizontal axis and one vertical axis fitted next to one another, it becomes wider. However, by arranging the horizontal axes in parallel above one another, a more compact unit is achieved.
Alongside its extremely compact dimensions, the HP70 also impresses with other characteristics. Whereas other devices must start and stop two axes each time, the HP70 only brakes on one axis when transitioning from full-speed horizontal movement to vertical movement. The time-consuming start of a second axis is then completely eliminated.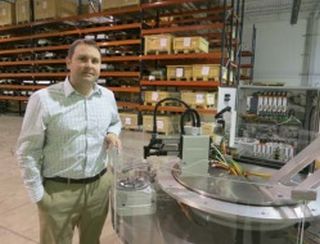 Given these distinct design advancements, the customer's end-use advantages are clear and simple. The same machining processes are handled in a smaller area and the floor space savings are immense -- as twice the number of work stations can be set up on the exact same rotary indexing table or linear assembly system.
Concurrently, output enjoys a dramatic boost as the transport times from one processing station to the next are reduced. In many cases, the optimization potential can reach as much as 50 percent.
The design also offers another key performance benefit, as both motors are encapsulated in fixed casings. With the obvious exception of the grippers, no moving cables are required either outside or inside the housing.
The introduction of the revolutionary HP70 represents the pinnacle of Pick-and- Place technology, as the series offers new possibilities for market applications such as: packaging, small parts assembly, automotive supply, cleanroom, batteries, switches/sockets, etc.
Want more information? Click below.