New MoldMaster High-Speed Machining Center Provides Both Hard Die and Graphite Electrode Production
GF Machining Solutions designed its new Mikron HSM 500 MoldMaster (MM) high-speed milling machine as an all-in-one production system. The machine's specific features and capabilities give shops the versatility to produce a wide scope of mold and die related components -- from 58 Rc steel mold cores to hot pressing dies and even sinker-EDM electrodes for intricate mold cavities -- all with one machine tool.
The HSM 500 MM packs speed, precision and rigidity. For high-speed, the machine is equipped with a 42,000-rpm HSK spindle that uses ceramic hybrid ball bearings with oil-air minimal lubrication, as well as liquid cooled stator jacket and bearings. This vector controlled motor spindle ensures extremely fast acceleration to full speed as well as high torque at low speeds. As a complement to the high-speed spindle, the machine cuts at feedrates up to 784.4 ipm (20 m/min) and rapid traverses as fast as 1,574.8 ipm (42 m/min).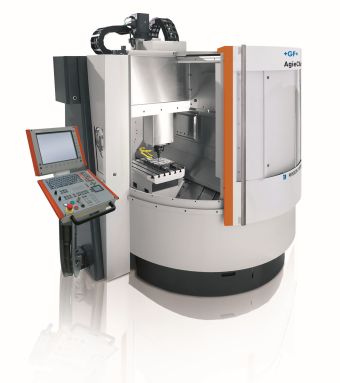 As standard, the HSM 500 MM comes equipped with graphite extraction system touch probe capability and absolute optical linear scales with 20-nanometer step resolution on its X, Y, and Z axes for extremely precise machine positioning. Also, the machine minimizes any thermal effects on accuracy through its polymer granite base material and liquid-cooled feed and drive motors, spindle motor and electrical cabinet.
The HSM 500 MM's portal construction, which is a pyramid-shaped design, delivers stability and high rigidity yet allows for a compact machine footprint. All machine cross slides are weight optimized and fulfill the requirements for highly dynamic machine motion.
As added stability, the machine's polymer granite base material completely dampens vibration up to six times better than that of standard gray cast iron base material. The polymer concrete is impervious to oils or cooling lubricants, and unlike other base materials, does not require an aging process.
Equipped with SmartMachine functionalities, the HSM 500 MM increases tool life through vibration monitoring, boosts productivity by reducing machine warm-up wait time and shortens cycle times with optimized machine motion. The SmartMachine Advanced Process System displays vibrations occurring during the milling process as a G-load, allowing machinists to intervene and adjust for optimized cutting conditions and part surface finishes.
With the Intelligent Thermal Control SmartMachine function, operators will not have to wait long for the HSM 500 MM to settle into a thermal steady state before beginning to machine parts. The machine actively compensates for any thermal displacement of the cutting tool's centerline.
In addition to its high-speed spindle, as well as fast and precise machine motion, the HSM 500 MM is equipped with other features tailored specifically to graphite machining, as for the production of sinker EDM electrodes to burn mold cavities. A hood protects the machine, and its axes are fully covered, while an automatic central lubrication system ensures all linear guides and ballscrews are lubricated without having to remove any protective machine covering. And to quickly evacuate graphite dust, the machine has two powerful suction units and two separate dust bins.
Want more information? Click below.