Automotive Manufacturers Apply "Industry 4.0" to Increasing Demands for More Flexibility
Niche products are becoming increasingly more important for motor vehicle manufacturers. However, this is leading to lower unit numbers and production plants must become more variable.
To date, the automobile industry more than any other industry has been synonymous with the highest unit numbers, i.e. with rational but also rigid production facilities. However, a good part of the industry's current success is now due to an increasing number of variants and individualization possibilities. The batch size is therefore decreasing continuously.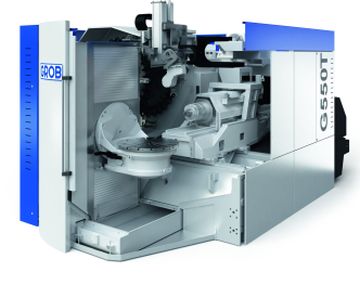 The universal machines from Grob, including this G550 model, are a further development of the G modular system that helps to increase flexibility.
Another reason is that new developments are permanently entering the market. Just like hybrid and electric drives, these developments only require low unit numbers at first. In view of this situation, manufacturers of machine tools and automation systems must design their machines more flexibly without reducing cost-effectiveness.
The most recent figures from the German Association of the Automotive Industry (VDA) are pleasing: most markets throughout the world are recovering. The Western European car market also appears to have overcome its long-standing weakness. According to the VDA in Frankfurt, this market grew for the fifth time in succession by just under 5 percent to 897,100 sold units. China and Japan also registered increases. Only the light vehicle market in the USA saw negative development while demand for new cars in Russia and India also dropped. On the whole, however, the reports from the automobile market are also positive for machine tool manufacturers since more than 40 percent of their products are purchased by motor vehicle manufacturers and their component suppliers. However, the tool industry has no reason to relax: the automotive industry is in a state of flux. More brands are coming onto the world market, every niche is being filled and new drive concepts are creating uncertainty over the form of the future automobile.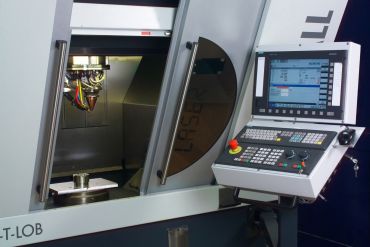 Service life of a deep drawing tool for the automotive industry increased by 150 percent: this was achieved by the Fraunhofer IPT by alloying of an additive on the surface by means of laser beams directly in the lathe.
Required: Flexibility, But Ease of Operation
The balance between economical large-series production and niche diversity is confirmed by Prof. Dr.-Ing. Eberhard Abele, Head of the Institute for Production Management, Technology and Machine Tools (PTW) at Darmstadt University of Applied Sciences in Germany.
"Unfortunately it is always still the case that flexibility is normally accompanied by productivity losses or additional costs; we will therefore always have to find a compromise in practice." According to Abele and his PTW colleagues, one viable way is offered by modular machine structures, "especially also production systems based on modular systems. "These systems offer far more production flexibility than was possible years ago. New developments in control technology and the Industry 4.0 concept can also further increase flexibility in the next few years.
"Suppliers should develop the most flexible production facilities which are based on the one piece production concept," advised Markus Jurditsch, Managing Director of SWJ Engineering GmbH in Griesheim, Germany. The engineering and consulting company assists firms in the automotive industry right up to the construction of complete factories at home and abroad. Jurditsch is seeing increasing modularization and the use of ever larger and more complex modules. This ties in with the wishes of production practicians from the automotive industry. They want mechanical engineering companies to provide non-component-dependent modular systems with the highest possible flexibility in order to be able to better adapt investments to the production volume from time aspects and react quickly to fluctuations in demand. It should also be possible to easily reuse these modules at a later date.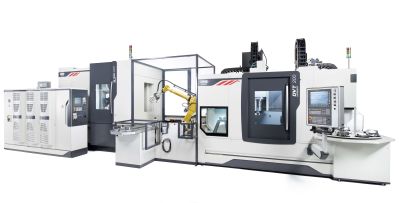 Integration and linking of a modular hobbing machine for chamfering and deburring, and a Hessapp vertical lathe.
"But please don't make them too complicated," is another demand. In view of possible high technical availability, users therefore want to install proven standard components ("mainstream technology") in machines and automation systems. Operability should also be kept as simple as possible in order to reduce commissioning, stoppage and qualification times. Standard software should therefore be mainly used for visualization and training of employees. However, there is also willingness here, certainly more than in the past, to cooperate with machine tool manufacturers in regard to simultaneous engineering.
New Machines for E-Mobility
Flexibility is not only required in terms of variant diversity. Keyword: electromobility. Prof. Abele has determined that this topic still does not play a role in production on account of the comparatively insignificantly small unit numbers. Nevertheless, the first suppliers have thought about this.
"For example, Grob-Werke GmbH & Co. KG developed a milling machine/lathe which is especially suitable for machining components for electric motors," said German Wankmiller, Chairman of the Board of Management of Grob. The Mindelheim-based specialist for general customer-specific solutions is also assuming "that there will be greater demand for assembly technology in future; we have adjusted to this accordingly."
Trend Towards Technology Integration
"Responses to the growing demands for accuracy and quality include technology integration, fewer set-ups and a continuous process chain," said Martin Winterstein, Vice President Sales and Marketing at FFG Werke GmbH in Mosbach (formerly the Industrial Equipment Division of MAG).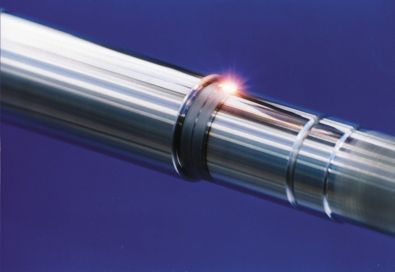 Hardening shafts without rechucking: this is made possible by a laser integrated in the RNC400 LaserTurn from A. Monforts.
He mentions as an example the integration of chamfering and deburring in a modular hobbing machine combined with a Hessapp vertical lathe. The DMG-Mori subsidiary Sauer GmbH, Stipshausen and Pfronten, is also moving towards hybridization with its "Lasertec 65 Additive Manufacturing". It combines laser deposition welding with milling operations in one machine.
An interesting development, for example for toolmakers, as shown by a recently completed research project of the Fraunhofer Institute for Production Technology (IPT) in Aachen within the framework of the Innovation Alliance "Green Carbody Technologies" (InnoCaT). The service life of a forming tool for automobile production was increased there by 150 per cent by alloying of an additive on the surface using laser beams.
Dr. Dominic Deutges, Professor for Production Engineering at the Lower Rhine University in Krefeld and a technology consultant to the Mönchengladbach company A. Monforts Werkzeugmaschinen GmbH, also regards hybridization as a flexibilization method: "Machine tools must now become increasingly more flexible in order to map as many process steps as possible in a machine."
One result of this demand are turning/milling centers which have been available for some years now. The trend is still towards hybrid machine tools in order to also link processes by means of very different production methods. "We regard hybrid production systems as a long-term trend for high wage locations. However, the core issue is always the practical suitability of the solutions." Monforts is regarded in the industry as one of the pioneers on this market. In cooperation with the Fraunhofer Institute for Production Technology (IPT) in Aachen the company developed a machine up to series maturity which combines metal cutting with thermal surface treatment by a laser to harden steels and cut ceramic materials.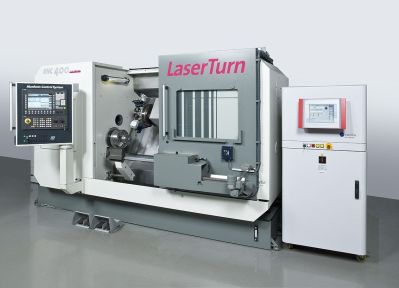 In the RNC400 LaserTurn from A. Monforts, the laser is located in a normal tool-holding fixture and can be used to harden steel materials.
Automotive Industry is the Efficiency Pioneer
The latest developments show the basic direction which machine tool manufacturers and automation specialists must take with their customers from the automotive industry: flexibility, speed and, not least, efficiency. "All major motor vehicle manufacturers and their component suppliers have now integrated the topic of energy efficiency in functional specifications for machines and system orders," said Prof. Abele, whose Institute has long been examining questions relating to the evaluation of machine tool efficiency.
According to Abele, "comparability is still a problem since companies do not normally purchase standard machines. Instead, production systems are offered as an alternative with a very different configuration." Energy consumption can therefore only be evaluated together with all other factors such as the essential production time, the set-up time or investment costs.
Prof. Abele points out another problem: Responsibility for investment costs and energy costs are often separated in companies. "Whereas purchasing managers want to buy as cheaply as possible, the operator is primarily interested in low operating costs and, thus, energy costs. Grob-Werke has already reacted to precisely this aspect, as explained by German Wankmiller: "We offer three packages containing different energy efficiency measures which are distinguished by the gradation of their potential savings, but are also correspondingly associated with higher investment costs." Entry is mainly via an inexpensive software package.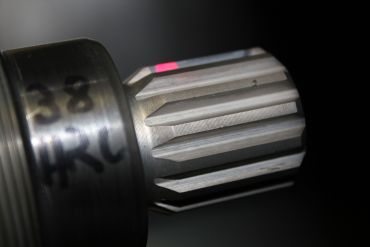 In a RNC400 LaserTurn from A. Monforts, tooth flanks can be directly hardened in the lathe.
Martin Winterstein stressed that FFG-Werke already reacted to tougher energy efficiency requirements years ago: "Reductions in consumption and emissions have long been firmly prescribed in our company's development process." Energy recovery and routines to automatically switch off units have long been standard. One recent development is the 'Energy Monitor' software module. "This enables us to create transparency about consumptions in a short space of time; we can then use it as a basis to optimize processes and work procedures," emphasized Winterstein.
Industry 4.0 on the Verge of Practical Use
Not a day passes when something about the topic of Industry 4.0 is not published somewhere. But what does this now actually mean for suppliers in the automotive industry? Development is still in its infancy and relatively few facts can be surmised. "Industry 4.0 will only become successful if the vision is turned into relevant and viable practical solutions. For small and medium-sized enterprises this provides an opportunity to set up demonstration factories as showrooms and meeting places," stressed Rainer Glatz, Head of the Industry 4.0 Business Platform and responsible for the areas of IT, software and electrical automation at the German Engineering Federation (VDMA).
Industry representatives say that their main aim is to network production machines and remote maintenance systems with production networks and software such as MES (Manufacturing Execution Systems) as a production control system or quality databases. Manfred Jurditsch regards networking across numerous stages of the product development process as an opportunity "to master increasing product individualization in the context of large-series production."
Want more information? Click below.