Flexible and Innovative Gear Hobbing Center Ideal for Micromechanical Industries
Affolter Technologies SA has introduced its most recent innovation -- the GEAR AF 110 hobbing center.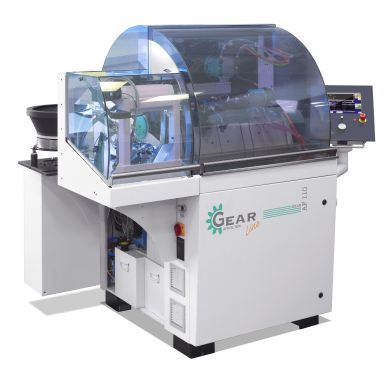 "The GEAR AF110 sets a new benchmark in regards to flexibility, high precision and stiffness. It is tailored to the needs of all micro motor industries, such as automotive, aircraft, dental and medical equipment, and watchmaking," states Marc-Alain Affolter, Managing Director of the Swiss family enterprise. The AF110 complements the existing GEAR product line towards the realization of larger parts with diameters of up to 40mm and a module of up to 1.0mm.
In 2010, the Affolter R&D team in Switzerland started to design the AF110. The result is the most robust and flexible gear hobbing center to date. "Compared to the AF100, we doubled the clamping force to 1000 newton. Torque and stiffness of the spindles were increased, the Y-axis is more robust and there is only one clamping axis moving, optimizing the overall rigidity and minimizing vibrations," explains Mr. Affolter. The AF110 is very compact, using the same base and volume as the AF100.
Flexibility a Plus: Worm Milling
The Affolter experts are currently developing the add-on "Unit 90": After a quick changeover, the AF110 will be able to perform worm milling operations. Marc-Alain Affolter: "We will introduce this optional feature in the second part of 2014. The AF110 will be the most flexible machine for gear cutting and worm milling on the market."
Short Cycle Times: Optimizing Productivity
The Affolter engineers aimed to reduce cycle times to make the machine as productive as possible. The AF110 is equipped with the user-friendly, internally developed CNC Leste control, making communication with the micro gear hobbing center easy and quick. The compact design and the improved rigidity are other key features that guarantee short cycle times and highest efficiency.
Want more information? Click below.