Femtosecond Laser Technology Precision Machines Parts in One Step; Reduces Cost Per Part Up to 50%
Raydiance, a provider of all-laser manufacturing solutions, has introduced the R-Drill, R-Tube and R-Mill, to address micromachining challenges in the automotive, industrial and medical device industries.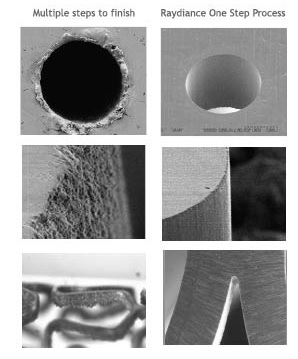 Raydiance athermal machining creates a precision part in one step, dramatically reducing time, labor and materials required to machine precision parts.
Ready to integrate into customer manufacturing lines, the new solutions increase yield and improve production efficiency by optimizing factory workflow to eliminate expensive post-processing steps and achieve part-to-part consistency. R-Drill, R-Tube and R-Mill combine Raydiance's femtosecond laser technology with the company's materials processing expertise and application-specific software.
Deployed in factories of Fortune 500 companies worldwide, the Raydiance solutions typically reduce cost per part by 20 percent to 50 percent. Additionally, the solutions enable a major shift in product design and development by significantly reducing prototyping and production transfer from months to as little as 24 hours. Customer applications include precision nozzles for automotive engine fuel injectors, cooling micro holes for power generation turbine blades, texture surfacing for biomedical implants (e.g. knee, hip and ear), and cutting of peripheral and cardiovascular stents.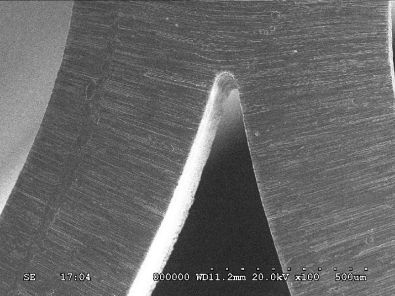 A sample of 316L stainless steel was machined with through cuts, then expanded slightly to show the level of precision achieved. There are no burrs, recast or other thermal effects.
"The world of micromachining is constrained by the quality and economic realities of traditional methods," said Richard Pierce, Raydiance CEO. "With the R-Drill, R-Tube and R-Mill, Raydiance eliminates these constraints and enables new product innovations with substantially higher quality and lower cost."
Raydiance Solution Advantages
The R-Tube, R-Drill and R-Mill represent the industry's only fully integrated solutions, manifesting Raydiance's deep, proprietary knowledge of femtosecond technology and micromachining processes to address specific real-world production and prototyping challenges.
All Raydiance solutions:
Increase factory output with compact, industrial grade, all-laser manufacturing solutions that enable high levels of automation.
Eliminate heat-affected zone (HAZ) damage to parts that require expensive post processing.
Reduce or eliminate internal process development using pre-loaded Raydiance designed processing instructions for the laser and material handling workstations.
Speed application development and time-to-market with 24-hour print-to-part software.
Raydiance solutions consist of:
Raydiance laser(s)
Raydiance-selected scanner(s)
Raydiance-selected work station(s)
Raydiance materials processing expertise delivered via proprietary control software.
Want more information? Click below.