New Modular Robotic Automation Cell -- Plug and Play Solution for Turning Machines
Machine shops of all sizes continue to seek ways to automate what they do to improve consistency, save time, and reduce cost per piece produced. In response to that need, EMCO Maier has partnered with UltraTech Machinery, Cuyahoga Falls, OH, a leading designer and builder of high production equipment, to offer a modular robotic automation cell that provides cost-effective, flexible part load/unload for its turning machines.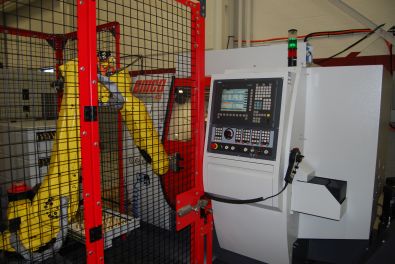 The new package was demonstrated recently with an EMCO Maier HT45 SMY universal production turning machine, a versatile, multi-task production turning/milling center designed for a wide range of applications on bar stock to 45 mm diameter. The Hyperturn 45 includes high-performance main and counter spindles, two tool systems with a total of up to 24 driven tools, and a stable Y axis with a 70 mm travel in the upper slide system and a Z2 axis in the lower slide system.
According to Bob Hagarty PE, CEO of Motch & Eichele, "The challenge was to put a flexible handling solution around a compact turning machine that was also scalable to use with a larger machine. We developed a universal base with left and right hand versions configurable to the machine model. It is a production-proven solution with millions of open/close cycles.
"We call it the EMCO Factory Automation Solution, designed to be easily used in small shops as well as larger plants. The overall package is non-threatening to machine operators. Often, the most challenging portion of an automation solution is part infeed and outfeed. The multi-drawer part cabinet offers a simple, reliable, flexible method to provide a useable buffer of oriented parts to the robot. The user is responsible for very little, including only part specific gripper fingers and trays for the drawers, robot path point teaching and minor program modifications as needed for tray unload / load and machine unload / load."
"Since UltraTech's heritage is in production, we knew what this solution would need to be: machine tool construction, easy to install and use, and highly flexible," said Steve LaMarre, Director-Automation Sales.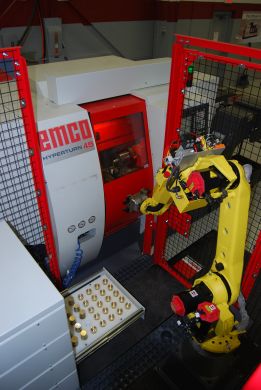 The fully integrated solution is based on the Fanuc M-20iA robot which has a relatively small footprint with heavier payload and larger reach than most other alternatives, and therefore more machine use options.
"I think the new cell speaks for itself," said Phil Hauser, EMCO Maier USA president, "and with a very competitive price point, it should be well received on the market. Our decision to come up with a great solution has been confirmed by recent industry surveys that indicate automation is becoming increasingly important to our customer industries. The automation package offers a very favorable capability/benefit vs. cost and can be delivered quickly."
Robust part drawers with heavy-duty drawer slides have a weight capacity of 300 lbs. and can accommodate parts up to 6" tall in a useable area of 18" x 24". Actual part quantity is dependent on the locating trays supplied by the customer. The robot has a 20KG payload with 14KG available for customer-supplied finger details and part weight. Load / unload times are application dependent, but 6 -- 8 seconds has been demonstrated.
"Other solutions have a smaller payload and shorter reach," LaMarre said. "They also are not fully integrated or modular. Our solution uses I/O blocks and cables so it is literally plug and play. Plus, it includes a secure workpiece storage/service drawer mounted on the platform that is easily accessible safely by the operator yet the robot can access other drawers at the same time."
All equipment is mounted on a common base plate with fork lift pockets. The base has drip pan and walk-on grating under which all robot cables and interconnect wiring are concealed and protected. Simple installation consists of locating the system in front of the machine tool within robot reach, leveling the base using the included screws, and lagging the base to the plant floor. The base package is completely assembled and fully tested prior to ship.
"We are providing an extremely compact solution with maximum utility and flexibility at an affordable cost," LaMarre said. "It is very easy for a shop with no automation experience to install this -- all the thinking is taken out, and it is even easier for experienced user. There is no need for a third party automation house; it is basically a catalog item."
Users can select end-of-arm tooling from two gripper models and three different mounting configurations based on the workpieces geometry and weight.
Want more information? Click below.