High-Precision Technology Improves Cycle Times and Accuracy for Heavy Parts
Okuma's ServoNavi is a high-precision technology that improves cycle times and accuracy when machining heavy parts. This technology can be applied on all Okuma double column, vertical, and horizontal machining centers.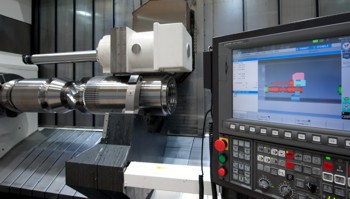 ServoNavi uses the weight of the part/workholding to control servo control accuracy. In the past, the weight was set manually, but incorrect weight would cause machining inaccuracies. ServoNavi prevents inaccuracies by addressing three areas of the CNC machining process:
Work Weight Auto Setting: On previous machining centers, actual table feed acceleration varied with different table loads (workpiece, fixture). ServoNavi's Work Weight Auto Setting function automatically estimates table loads to adjust for the best acceleration speed -- and achieve faster cycle times.
Reversal Spike Auto Adjustment: Machine tool utilization times and slide loads vary from the ideal servo control settings determined at initial machine delivery. This may produce crease marks at motion reversals and affect part surface quality. ServoNavi's Reversal Spike Auto Adjustment compensates for slide load variations, and with optimized servo control, maintains the required CNC machining accuracies (surface quality).
Vibration Auto Adjustment: Noise or vibration may occur when machine conditions change over time. ServoNavi's Vibration Auto Adjustment makes the required adjustments for the changed conditions to effectively eliminate noise and vibration.
Want more information? Click below.
Copyright © 2018 by Nelson Publishing, Inc. All rights reserved. Reproduction Prohibited.
View our terms of use and
privacy policy
::m::