New Software Tells Managers What's Really Happening On the Factory Floor
Managing the factory floor just got a little easier with the announcement of FACTVIEW, a new set of browser-based "windows into the factory" as an enhancement to FACTIVITY's software functionality. FACTIVITY produces Manufacturing Execution Systems (MES) that provide paperless manufacturing solutions for the factory floor.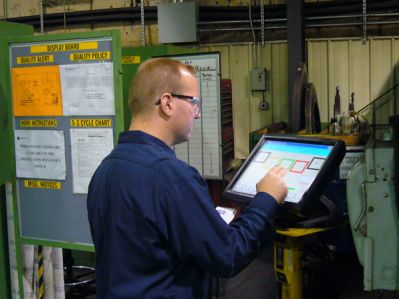 A part of the company's newest release of its Shop Floor Workbench software, FACTVIEW enables a user-friendly reading of factory floor activities in real-time through a manager's laptop or mobile device.
"With FACTVIEW, managers have access to machine, order, part and employee information from any device with a browser in their factory," said John Cleaver, FACTIVITY's lead developer on the project. "Need to know who is working now? What they worked on today? What the status of an order for the customer you are talking to is? These are all things you can see in seconds with FACTVIEW."
With this kind of portable access, FACTVIEW will enable floor supervisors to be mobile but still have connectivity in real-time. The software enables managers to view measurements such as employee daily activity, paperless dispatching of jobs, part/job work-in-process status, and machine performance showing the classic overall equipment effectiveness (OEE) measurements of:
Asset availability and downtime
Production performance to expected rates
Quality problems of scrap versus good product produced at each work station
In addition to real-time, up-to-the-minute information about current factory floor activities, FACTIVITY also provides a historical set of metrics and KPIs (key performance indicators) in spreadsheet form. FACTVIEW also features:
Labor Time Tracking as well as a paperless shift time card showing an employee's time on each job during the shift.
Part Inquiry that enables the manufacturer's customer service team to view the current location and expected completion time of parts in production. This can also be searched by purchase order when necessary.
Dispatch Views provides details on jobs scheduled to run in an operation. This can be used by non-direct production areas such as the quality and/or maintenance department to see what part is currently running at each machine or line, the status of that operation, and when it is expected to complete during the shift.
"One trick to making FACTVIEW successful, was making sure the software worked with all commonly used browsers," said Cleaver. FACTVIEW is supported on Chrome, Firefox and Internet Explorer version 7 and newer.
Want more information? Click below.