Advanced Aircraft Engine to Provide New Cooling Technology and 10% Improvement in Fuel Efficiency
Mitsui & Co., parent company of Mitsui Seiki USA, Inc., has agreed to become a key strategic partner in the development of the lightweight and powerful GE9X aircraft engine for the next generation of wide-body airplanes, the latest offering in the GE90 engine family manufactured by GE Aviation, an operating unit of General Electric Co. Mitsui will team up with GE Aviation to support the development of advanced technologies that will provide a 10 percent improvement in fuel efficiency when compared to earlier GE90 engines.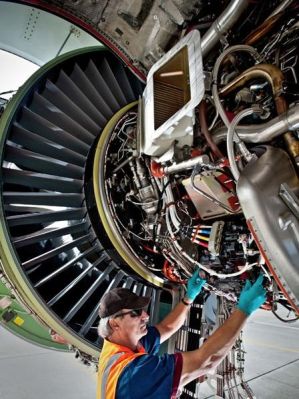 The GE9X engine will feature new cooling technologies; an 11-stage compressor with a pressure ratio of 60:1; its fourth-generation composite fan blade which will reduce the fan blade count to 16; and an advanced, high-strength ceramic matrix composite (CMC) in the engine core that will exhibit more thermal capabilities and weighs significantly less than its earlier incarnations. These advancements -- and more -- will result in a lighter weight engine with increased fuel efficiency.
GE Aviation has received orders for more than 1,500 GE9X engines which are designed to power the next-generation Boeing 777X wide-bodies aircraft.
"We are excited to increase our presence in the aerospace business through this strategic partnership with GE Aviation," says Scott Walker, President, Mitsui Seiki, USA, Inc. "GE Aviation is a well-respected leader in cutting-edge engine development for the aviation industry; they are an ideal partner for our latest venture."
In 2011, Mitsui & Co. entered into a joint venture with Willis Lease Finance Corp. to create Willis Mitsui Engine Support to acquire and lease GECF34-10E jet engines to the aircraft industry. In addition, Mitsui and GE Aviation are in discussions regarding Mitsui's consultancy services to support GE Aviation's expanding business in Japan.
Want more information? Click below.
Copyright © 2019 by Nelson Publishing, Inc. All rights reserved. Reproduction Prohibited.
View our terms of use and
privacy policy
::m::