Fire-Resistant Hydraulic Fluid Offers Superior Safety, Reduced Maintenance, and Longer Product Life
Many industrial applications such as steel-making, die casting, foundry, and forging require the use of hydraulic fluids that provide greater fire safety than mineral oil. Hydraulic fluids are a vital component of hydraulic systems. The fluids must meet many stringent performance demands including corrosion protection, lubrication, and viscosity stability. There are many types of fire resistant hydraulic fluids available, but water glycol hydraulic fluid is one of the most widely used because of its excellent fire-resistant properties and performance.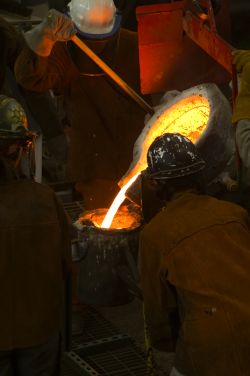 The expected level of hydraulic fluid performance in operating pressures, safety and reliability has increased, making a hydraulic fluid with fire-resistant properties ideal for operations near a heat source or fire hazard such as molten metal and open flame. Therefore, the hydraulic fluid selected should have maximum resistance to ignition and flame propagation, especially if the machines are in close proximity to one another. Fire-resistant water glycol hydraulic fluids have been developed in order to minimize the potential risks of fire thus providing a safer work environment for employees while maintaining fluid performance characteristics such as viscosity, corrosion resistance, lubricity, operating temperature ranges and system compatibility.
Quaker Chemical Corporation has introduced QUINTOLUBRIC® 702-46 RD to its line of QUINTOLUBRIC® fire-resistant hydraulic fluids. QUINTOLUBRIC® 702-46 RD is a fire resistant water glycol fluid that offers superior in-class performance and safety, reduced maintenance, and longer product life.
Want more information? Click below.
Copyright © 2019 by Nelson Publishing, Inc. All rights reserved. Reproduction Prohibited.
View our terms of use and
privacy policy
::m::