Connecticut Manufacturer Improves Throughput While Producing Mistake-Free Parts in a High Mix/Low Volume Aerospace Environment
Horst Engineering precision machines more than 4,000 active, unique parts with an average lot size of less than 100 pieces. So they've come up with a solution that gives them the flexibility, speed, and accuracy they need.
Founded in 1946, Horst Engineering is going in to its 68th year in the manufacturing business. With 90 employees, they manufacture precision machined components from a wide range of specialty materials, including metals and polymers.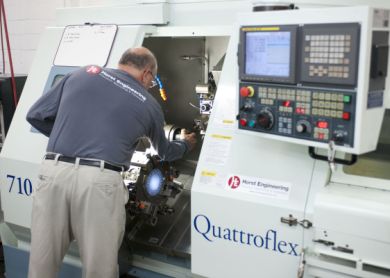 Allen Beaulieu, Turning Lead/CNC Programmer at Horst Engineering, says they run parts at tolerances that push their machines to the limit.
They machine parts up to 12 inches in diameter/cube. Their products are in many commercial and military aircraft systems, including engines, cabin pressure systems, propellers, actuators, fuel pumps, landing gear, starters, electronic systems, auxiliary power units, and aero-structures.
Aerospace Manufacturing Challenges
Horst Engineering is characterized by a three-generation legacy of strong family and business values, and a passion for crafting products that are built to last. They manufacture parts with a strong focus on the aerospace industry. They face challenges that so many manufactures in this industry face, a high mix of parts with low annual volumes.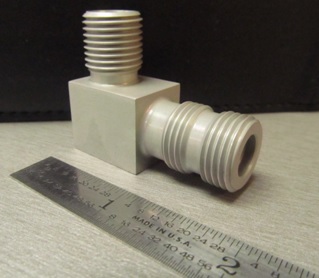 The Eurotech 735SLY machines these aluminum Tee Fluid Fittings at 5 parts per hour.
"Aerospace is always a challenge as it requires high precision but is also a small lot size business. There are certain components we make more frequently than others, but the low volumes still prevent us from optimizing our processes. For instance, we have over 4,000 active, unique part numbers with an average lot size of less than 100 pieces. With such a wide range of product and customer requirements, we need a solution that gives us flexibility, speed and accuracy," said Scott Livingston, President and CEO.
More Features Completed in One Machine
Each year Horst Engineering manufacturers increasingly complicated parts that require more and more tools. Set-up time is a number one killer, so reducing changeover time was very important. Horst Engineering started using Eurotech Elite machines to produce a wide range of custom components, including: fasteners, bushings, valve bodies, clevises, fittings, washers, flanges, rings, valve and pistons. "The multi-axis Eurotech's have helped us increase the number of features completed in one machine. This helps to improve throughput and mistake proof the process," said Allen Beaulieu, Turning Leadperson/CNC Programmer.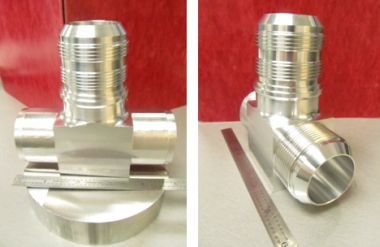 Each of these parts for an experimental aircraft program can be manufactured in 1 1/2 hours.
Beaulieu continues, "We use a wide variety of difficult to machine materials, and run at tolerances that push all our machines to the limit. More sophisticated processes and more complex machines mean more unusual machine problems including wear and tear, compared to a traditional job shop or high volume shop. However, Eurotech's service and engineering have always been there to help solve the challenges."
Getting High Precision for Aerospace
"The Eurotech machines can produce the precision that is required in aerospace. All of our machines' controls have been dialed in to 'super- precision' accuracy with .000010 resolution. Our machines are set-up every other day," said Stephen Clark, Manufacturing Engineer at Horst Engineering for 8 years.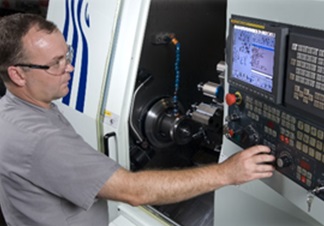 Boguslaw Baclawski is able to reduce redundant steps using the PartMaker software.
Horst Engineering manufactures a tee fluid fitting, a complicated part that requires special attention to detail. Parts like these with multiple features have tighter control on positioning and relationship to other features. Timing of the machine spindle is critical. Complex machining, longer cycles, and more completely machined features have to be backed by a higher inspection level at the time of manufacturing. Though the part size is not considered large, they do require a variety of cutting tools to produce them. The machine turret is limited to the amount of tooling that it can hold so when processing and programming, you have to utilize every tool to its fullest capabilities. When milling large parts, the tool path often pushes the machine over the travel limits in the "Y" axis, so the tool path has to be clearly defined.
Part Examples and Details
"We don't have a real comparison. Before Eurotech, there was no alternative process for these parts. If we did not have the capabilities of the Eurotech, these parts would have to be machined in multiple operations; some operations would require special fixturing and holding methods. Those alternate processes would create higher costs (tooling, fixturing, etc.) extended lead time, increased part queues, increased part handling and motion," added Beaulieu.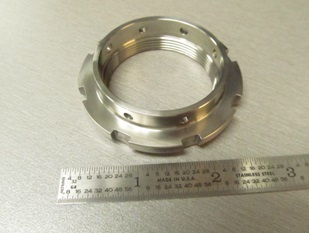 This part machined on the Eurotech 710SLLY Twin Turret can be produced at a rate of 3 parts per hour rather than the old rate of 2 parts per hour.
You can see a commonality in the threading of these parts. Aircraft threads are machined to a tighter class, requiring heightened inspection. The large aluminum "T" has a critical conical seat in three locations. During the machining cycle you need to be aware of chip control and tool path sequence as not to damage these areas. After removing from the machine, part handling and movement is the next area that requires attention.
Programming Solutions Offline for Complex Parts
Horst Engineering has had a lot of success with their offline programming solutions. With a very high mix of parts, they are setting up equipment every day. They started using PartMaker software for their Swiss-type machines and then migrated to their Eurotech multi-axis platform. "Before this software integration, we were programming long hand but now we are able to do a lot more with the solid models and we are able to reduce redundant steps," explained Livingston.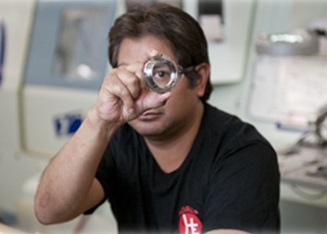 Roberto Perez and the other employees at Horst Engineering focus on manufacturing "jewel-like" components with ultra-modern tools, systems, and management.
"We can now go from solids right into their software and then from the software right out to the machines and the product is perfect the first time. This integration brought engineering and manufacturing in very close ties to one another because everyone is now using the same model and the product is coming out to the customer's specifications the first time," said Jim Bowtruczyk, Director of Product and Process Improvement.
The part manufactured in the video below is a part done for an aerospace customer. Previously, the part would have been done with multiple operations on multiple machines in multiple parts of their plant. "Before Eurotech, when a part like this came in, I would have scratched my head and said, we aren't capable of doing this: flats, tapped holes, mills windows, different size threads; many operations; and now we complete it in one operation on one machine. This was 3D milling which I had never attempted before. PartMaker made it easy," said Beaulieu.
"We have evolved and have come into new markets. Eurotech multi-axis lathes have helped our company reduce steps in our machining processes while maintaining the high precision that aerospace parts require," Livingston concluded.
Want more information? Click below.