New "RoboBox" Machining Cell Combines Robotic Arm With Spindle to Perform Turning, Milling, Grinding, and Polishing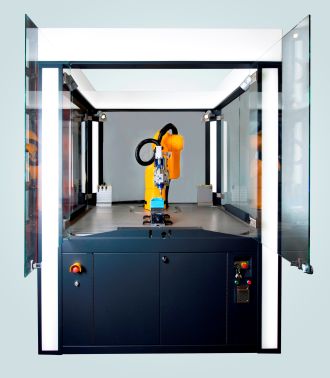 Toolcraft's new RoboBox machining cell combines a 6-axis articulated arm robot by Stäubli in a closed production module with a 7.5 kW strong, water-cooled milling spindle. A slotted table ensures the precise fixing of the components. A zero-point clamping system or a round table can also be used.
Milling is the standard task for the RoboBox. But other finishes and post-processing options are also possible -- when switching tasks, the robot in the RoboBox fetches another tool from the tool magazine. The RoboBox is a universal solution for many tasks, including deburring.
New possibilities include unrestricted access to the component without having to turn it over, as well as expanding the robot's working area through the use of external linear or rotary axes, which can be used simultaneously or indexed. All this saves the user a lot of time through the fast turnaround times to the finished component.
Flexibly for All Kinds of Tasks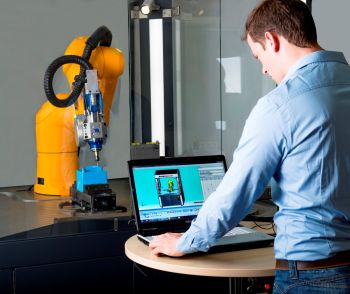 The closed machining room is fitted with manual chipping extraction. Extraction can be automated if desired. Eight tool positions are available as standard for different machining tasks, from which the system can automatically take the desired tools without re-clamping. The tool changer can be expanded if the task requires it.
As a machining cell, robot and machining room form a unit that can be used wherever needed as a module of a universal machine tool in production. Depending on the equipment, the RoboBox can perform classic metal machining such as turning, milling, polishing and grinding sequentially. This means the component can be made and refined on the spot. The robot does not just perform the loading and unloading of the workpieces. As part of a continuous process chain, upstream and downstream tasks are performed on the workpiece -- in the same programming language as that of the machine tools. This results in metal components from various areas of application for engine parts, from functional elements to inserts in tool making.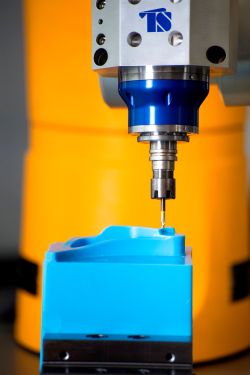 A Key Feature of the RoboBox: Offline Programming
The RoboBox machining cell robot does not have to be conventionally 'taught'. All kinematic movements are programmed using the Mastercam Robotmaster software before starting work. All the robot's movements are visually recorded as kinematics through simulation and optimized, and then loaded onto the machining cell's hard disk before work begins. Unlike teaching a conventional robot, no original or reference model is required here. The robot find all paths independently from the first part and processes the components from batch size 1 to batch size N.
The RoboBox does have anti-collision protection for reliable machining. This approach is not only a reliable process -- it also increases the system availability. The RoboBox is a customized all-round solution: from the product concept through the design, the construction to the final inspection and QA with CE labelling.
Want more information? Click below.