PLM Software for Automakers Eliminates Problems Virtually; Human Simulation Among the Latest Innovations
Comau Engineering, Injection Molds & Dies has been supplying engineering services and production tools to the automotive industry for over 60 years. By integrating product development activities with Siemens PLM Software, Comau has simplified the production process while reducing production time and cost.
The automobile market offers a great number of models rich in functionality and technologies according to an ever faster lifecycle that requires increasingly complicated development processes.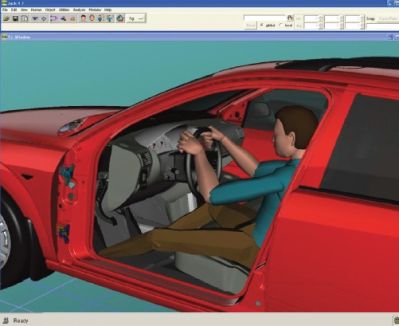 Siemens PLM Software manages all phases of product development and process, from testing models designed with heterogeneous CAD systems to virtual assemblies.
Managing growing design and production complexity, from the need to reduce errors to the setting up of precise customer specifications according to strict schedules, requires absolutely flexible software solutions that are synchronized to allow the tight control of entire projects. Such solutions significantly simplify project and product industrialization activities, integrating and making easy information exchange among the different application operations without dispersions or interruptions.
To deliver complex, quality products according to strict due dates, automobile manufacturers are orientating their production strategies to product lifecycle management (PLM) software tools. These tools allow calculations and analysis in a virtual environment that fully substitutes the physical tests. Immediate feedback during the test processes, which directly and automatically affects the design work, enables the correction of errors before entering into production. Virtual processes have become indispensable to reach the market in the ever-faster times expected by customers.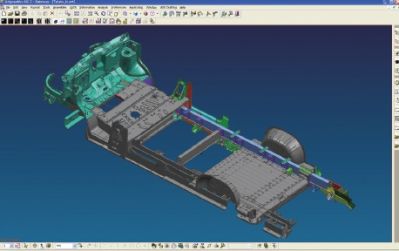 By integrating product development activities, Siemens PLM Software solutions boost productivity from the individual to the corporate level.
A company whose core business is the design, production and maintenance of mounting plants for the automobile industry, as a priority, must assure that all the phases of mounting are carried out correctly.
Giuseppe Molina, Chief Operating Officer, Comau, notes the importance of assembly processes in a vehicle. "What distinguishes a good vehicle is its re-elaboration and adaptation to new technologies in short times and without problems during the final phase of production," he explains. "Besides a correct design, in fact, foreseeing a coherent assembly -- one without interferences -- is fundamental. Downstream interferences can decisively compromise the goodness and quality of the product. For this reason, anticipating eventual problems during the mounting or dismounting phases is an indispensable factor for a manufacturing company wanting to stay market competitive."
Comau uses solutions from Siemens PLM Software to manage its design and production environment. Molina explains, "Siemens PLM Software offers a range of tools to increase the integration of individuals and organizations. Using Siemens PLM Software technology, all the figures involved in product development (marketing, designer, draftsman, technicians) can use -- throughout the phases of design, industrialization and production -- a single digital model synchronized in a single environment.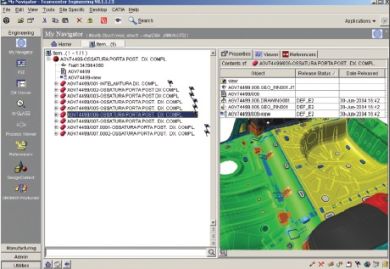 PLM software empowers a business to make unified, information-driven decisions at every stage in the product lifecycle.
"Besides NX software for design and Teamcenter software for product data management, we have implemented with success Teamcenter for lifecycle visualization, as well as Tecnomatix FactoryCAD for 3D factory layout and Tecnomatix Jack for human modeling/simulation," he says.
"The Siemens PLM Software solutions allow a digital mockup to be created that manages all phases going from virtual assembly to process testing of models designed with heterogeneous CAD systems. Virtual assembly is less expensive and quicker in comparison with physical assembly. You have the opportunity to test that all the tolerances are respected. Not being able to foresee a little error in the mounting of the equipment can compromise the quality of a whole product." Molina adds, "Through the use of these (Siemens PLM Software) solutions it is possible to work in parallel across both product industrialization and design processes. Thanks to this parallel and continuous analysis, we can evaluate priorities and solve eventual problems that could arise during product development, thus assuring handmade deliverability."
Teamcenter is able to "control" a whole motor vehicle in a single session, enabling the management of both product complexity and the heterogeneity of all data. This includes managing the set-up processes, testing the assembly and delivering document drawings. For Comau, the solutions from Siemens PLM Software have become indispensable, allowing the company to optimize the use of CAD, using it to truly serve design. The resulting benefit, besides the aforementioned advantages, is a measurable cost reduction.
Want more information?
How Human Simulation Improves Safety and Efficiency in Automotive Production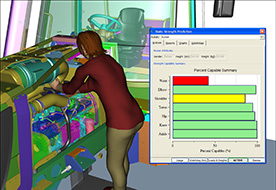 The Jack human simulation software offers an advanced posture algorithm that can analyze how a body reacts to exerted force in a specific direction.
This year at the North America Auto Show, Siemens highlighted the human simulation solution, and showed how automakers use this solution to improve safety, ergonomics and efficiency of human performed tasks in assembly lines. One of the latest innovations found in the Jack human simulation software is its ability to capture human postures using Kinect. Kinect can capture a body's motion and respond to voice commands, allowing you to control your Avatar.
Kinect provides an inexpensive way to build a human simulation study quickly, analyze different aspects of human postures, and perform feasibility study of assembly operations.
Want more information? Click below.