Mars Exploration Rover Still Rolling 10 Years After Launch
This month, NASA and the Smithsonian National Air and Space Museum (NASM) in Washington are sponsoring events to commemorate 10 years of roving across the Red Planet by the Mars Exploration Rovers (MER). Read how you can take part in the anniversary celebration. Also, take a trip down memory lane with Tooling & Production's original article in 2004 that described how CADCAM technology from GibbsCAM played a major role in the project.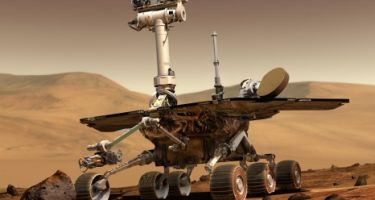 An artist's concept portrays a NASA Mars Exploration Rover on the surface of Mars. Two rovers were launched in 2003 and arrived at sites on Mars in January 2004. Each rover was built to have the mobility and toolkit for functioning as a robotic geologist.
Anniversary activities are showcasing the images and achievements of Spirit and Opportunity, both launched by NASA in the summer of 2003. Activities are also highlighting how Mars robotic exploration and discovery will aid plans for a future human mission to Mars.
Spirit and Opportunity completed their three-month prime missions in April 2004 and went on to perform extended missions for years. The rovers made important discoveries about wet environments on ancient Mars that may have been favorable for supporting microbial life. Although Spirit ceased communicating with Earth in March 2010, the Opportunity rover continues its work on the Red Planet.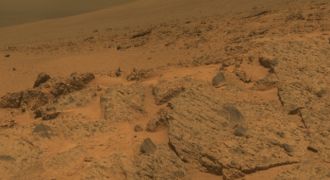 NASA's Mars Exploration Rover Opportunity observed this outcrop on the "Murray Ridge" portion of the rim of Endeavour Crater as the rover approached the 10th anniversary of its landing on Mars.
The museum is featuring a new exhibit, "Spirit & Opportunity: 10 Years Roving Across Mars," with more than 50 mosaic and panoramic photographs taken by the rovers. From a view of the sun setting over the rim of a crater, to a study of "abstract dunes," to a shot of rover tracks disappearing over the horizon, the images were chosen for their scientific and aesthetic content by MER mission team members.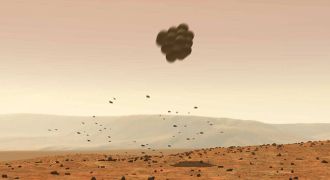 This illustration depicts how each of the twin Mars rovers Spirit and Opportunity landed on Mars in January, 2004, cushioned inside airbags that bounced several times before coming to rest.
On Thursday, Jan. 23, 11 a.m. PST (2 p.m. EST), NASA's Jet Propulsion Laboratory will host a media briefing on the Opportunity rover's decade of exploration. NASA Television and the agency's website will provide live coverage of the event. Reporters and the public can ask questions from NASA centers and via Twitter using the hashtag #10YrsOnMars. The discussion will also be webcast live at http://www.ustream.tv/NASAJPL.
Want more information on the rovers and the Mars Exploration Program, click below.
To read the T&P article from March 2004, click below.