New and Highly Advanced Cutting Tools to be Unveiled at AeroDef 2014
Niagara Cutter will showcase a wide variety of new and highly advanced cutting tool solutions at AeroDef 2014. Among the latest Niagara products attendees can expect to see are the S738/S738R and S938/S938R high-speed multi-flute solid carbide cutters, Stabilizer™ HT STR440 solid carbide tool with aerospace corner radius, VFB435SB and VFP635SB high-speed cobalt cutters and DiamondPlus™ series of CVD diamond-coated solutions.
Designed for high-speed milling operations in titanium and other challenging materials, the new seven-flute S738/S738R and nine-flute S938/S938R solid carbide cutters allow aerospace and defense manufacturers to machine precision parts at higher feed rates. The unequal flute spacing on these cutters reduces vibrations for improved surface finish. The cutters come standard with aerospace corner radii and AlTiN coating. The seven-flute cutters are available in diameters that range from 0.25" to 0.5", while the nine-flute designs are between 0.625" and 1" in diameter.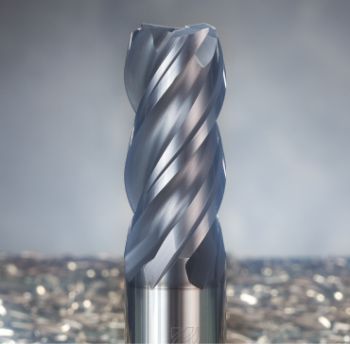 Niagara's Stabilizer STR440 is ideal for machining aircraft parts.
As the newest addition to the company's popular Stabilizer™ HT range, the four-flute STR440 solid carbide tool with patented variable flute geometry and aerospace corner radii brings a high level of performance to the machining of aircraft parts from stainless steel, high-temperature alloys, nickel-based alloys and titanium. The tool is available in either an AlCrN or AlTiN coating for use in a variety of operations.
The company has added two new solutions to its VFP series of multi-flute, variable face cutters made from an M42 cobalt substrate. Like the other products within the series, the latest four-flute VFP435SB and six-flute VFP635SB bring optimal performance to rough machining operations that involve stainless steel or titanium and require substantial metal removal rates. They also feature a cutter geometry that provides optimal chip formation and evacuation in difficult operations.
However, while the existing products in the line only allow up to a .156" corner radius, the new cutters allow for a larger .250" corner radius through quick modification. VFP cutters are available in diameters that range from 0.75" to 2", with multiple lengths of cut based on the diameter. The company stocks both the four-flute and six-flute designs standard with a 45-degree corner chamfer.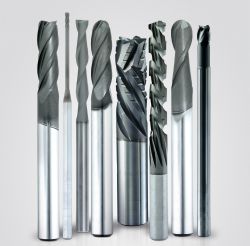 Niagara's Diamond Plus Cutters reduce edge build-up.
Designed for precision machining in advanced abrasive materials, the company's expanded line of DiamondPlus products feature a 100 percent real diamond crystal coating that makes them extremely hard and maximized for long tool life. The diamond coating is resistant to chemical interaction with the workpiece material and has an extremely low coefficient of friction to significantly reduce edge build-up.
Want more information? Click below.