New Wire EDM Offers Precision Micro Machining On Carbide and Other Hard Materials
Makino announces the release of the UPN-01 ultra-precision horizontal wire EDM for micro-tolerance and fine surface finish applications. Designed with a unique horizontal wire feed system, this sub-micron level precision wire EDM provides reliable unattended operation even when working with wire diameters as fine as 0.00078 inches (0.02 mm). Its oil dielectric configuration also makes it an ideal solution for high-accuracy machining of carbide and other hardened materials.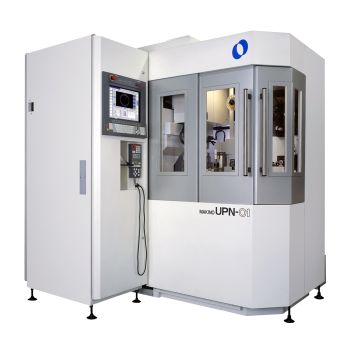 "The UPN-01 pursues the ultimate in precision micro machining, advancing closer to the world of 0.1 µm machining," says Brian Pfluger, Makino's EDM Product Manager. "It delivers fine surface quality and superb accuracy every time -- achieving a best surface finish of 0.17 µm Rz and accuracies as fine as ±0.5 µm. This level of capability is ideal for manufacturers of fiber optics, electronic connectors, medical components, micro molding and other high-accuracy machining applications."
The UPN-01 machine travels for the X-, Y-, and Z-axes are 6.29 inches (160 mm), 6.29 inches (160 mm) and 1.96 inches (50 mm) respectively, with additional U- and V-axis travels of ±0.27 inches (7 mm). The UPN-01 will accommodate a maximum workpiece size of 5.90 by 5.90 by 1.57 inches (150 x 150 x 40 mm), with a maximum payload of 17.63 lbs (8 kg), which includes the tool holder.
The machine is also configured with an ultra-precision rotary C-axis which is used for holding and indexing of the work piece, and provides rotational positioning accuracies of ±2 arc seconds. Due to the machine's horizontal configuration, the convention work table configuration is replaced with a frame or clamp style tooling system, which can also be automatically exchanged using the optional 16 station Automatic Work Changer (AWC) system.
The UPN-01 incorporates a revolutionary new motion control system that incorporates pneumatic static pressure guideways and linear motor technology. The pneumatic guideway system, which is similar to high-accuracy coordinate measuring machines (CMMs), minimizes mechanical friction and ensures consistent high-precision movement for fine feeds, while eliminating the need for oil lubrication. Makino also engineered the UPN-01 with a unique linear motor system that further reduces movement friction and movement inertia to attain sub-micron level accuracy. The linear motor system is not design for rapid movement, but has been purpose-built to deliver the smallest possible movement increment, while overcoming traditional linear motor issues of heat generation and repulsive cogging torque of the magnetic forces.
The UPN-01 also features Makino's new Hyper i control system, which features a user-friendly interface similar to that found on tablets and Smartphones, making operation very intuitive and straightforward. A large 24" class HD touch-screen display provides a commanding view for operation, and the Hyper i control also features many helpful intelligent tools for the operator. Digital onboard electronic manuals, instructional training videos, and advanced process control functions provide the operator with all of the resources necessary to remain highly productive.
Want more information? Click below.