Robot "Colleagues" Improve Assembly Line Efficiency With Typical 3 to 8 Month ROI
For the Danish company Stantræk, automation means growth. The company that processes sheet metal and coils is now able to expand production without significant increases in payroll. From 2008-2013, revenue nearly doubled from $4M to $7M. Much of the added workload is now handled by Universal Robots.
Integrating two UR robots in production has enabled Stantræk to win job bids that would otherwise have gone to Eastern European countries with lower wage requirements. Stantræk's CEO, Morten Petri Lauritsen, has also experienced that customers now take a more nuanced look at production performance.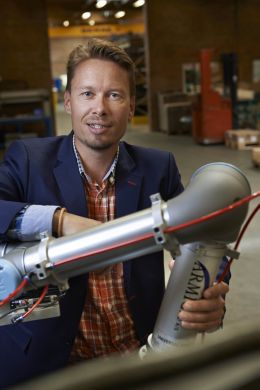 Thanks to the UR5, Morten Petri Lauritsen, CEO of Stantræk, can now optimize his production, resulting in Stantræk winning bids that otherwise would have gone to manufacturers in countries with lower wages than Denmark.
"During the recent recession, we saw a lot of outsourcing to Asia, but now our clients focus more on how to achieve a balance between quality, time of delivery, and price points," he says.
Stantræk has invested in two UR5 robots from Universal Robots that operate 16 hours per day.
"We would like to grow without hiring more people in production. We're receiving new orders and addressing the added demand through automation," says Lauritsen. "Within the next five years, we plan on adding another five to seven robots. They'll be even easier to integrate since we've learned so much through our experience with the first ones."
Since 2006, 25 jobs with arduous, monotonous tasks have disappeared from Stantræk. Only three of those jobs remain.
"Automation does in some cases replace jobs, but it's the physically back-breaking ones. We strengthen the work environment when we use robots for tasks such as pick and place assignments," says the Stantræk CEO, who has been head of the company since 2007.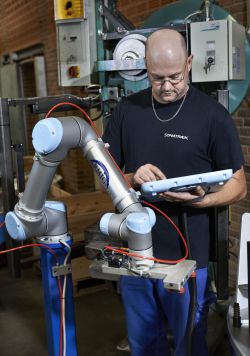 Poul Lave is a self-taught jack of all trades. He learned how to program and operate the robots and regularly optimizes the applications.
Founded in 1967, Stantræk is a short-run production company that specializes in processing metal sheets and coils, delivering components to the electronics and automotive sectors, among other businesses.
Easily-Trained Colleagues
Poul Lave works in Stantræk's production and now circulates between three robots. Two of them are the light blue, five-kilo payload UR5 robot arms from Universal Robots. They are his favorite "colleagues".
"The UR robots are smart and simple. The software makes them easy to use," says Lave, who is a self-taught jack-of-all trades at Stantræk. "I can train a colleague to operate the basic features in just five to ten minutes. After this, they're ready to work the robot when I'm out. Training employees to use our old robot takes several hours."
One of the UR robots at Stantræk is used to produce four different mechanical components in zinc-aluminum that are placed in a stamping machine and then into a box. In less than one half-hour, Lave can reprogram the robot to handle other components. An experienced worker can place 400 items in a box per hour whereas the robot can handle 300 items hourly. The UR robot doesn't need a paycheck, breaks, or paid vacations. And unlike employees, there are no ergonomic issues resulting from performing monotonous tasks for 16 hours per day. Taking all of this into consideration, the robot comes out ahead.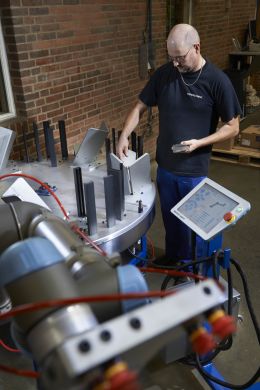 In collaboration with the robot integrator Armiga, Stantræk has developed a creative, cost effective way of turning the round table to the next magazine after the robot empties the previous one. Rather than investing in a motorized table, the UR robot can turn the table.
Fine-Tuning Saves Time
Poul Lave taught himself how to program and operate the robots and regularly optimizes the applications.
"I actually found a way to save three seconds in the production of each item because I used the robot's teach function, allowing me to simply grab the robot arm and show it the desired motion. This enabled me to tweak the robot movements -- resulting in the UR5 moving more smoothly. Before, the robot handled approximately four items per minute, now it can finish six per minute," says Lave, while he places 500 items from a box in the round table's magazines. The box holds 5,148 items and with Lave's optimization, the robot can now process the entire content of the box four hours faster than before.
In collaboration with the robot integrator Armiga, Stantræk has also developed a creative, cost effective way of turning the round table to the next magazine after the robot empties the previous one.
"Rather than investing in a motorized table, we now let the UR robot turn the table," says Frank Barbarus, COO at Stantræk.
Saves Consulting Hours
The robots have been well received by the employees at Stantræk. Five of the production workers have attended a more in-depth automation seminar, which they themselves requested.
"There have been no complaints about the UR5s. Our employees quickly realized that the robots play a key role in generating revenue and have helped us get back on an even keel after the recession," says Barbarus.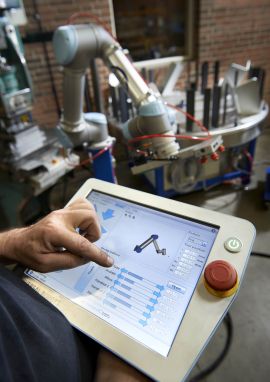 Teaching an employee to program basic moves with the UR5 robots takes five to ten minutes using the intuitive touchscreen tablet with 3D programming. The robot can also be programmed in "teach mode", allowing the employee to simply grab the robot arm and teach it the desired moves.
He strongly recommends that companies thoroughly train each employee in using the robots, enabling them to reprogram the robots for new jobs and troubleshoot and tweak operations without having to call expensive, external consultants.
State of the Art Robot Safety
The Stantræk applications using UR robots adhere to all requirements ensuring a safe work environment. A thorough risk assessment has been carried out concluding that the robots can operate without any safety guarding. If the robots come into contact with an employee, the built-in force control limits the forces at contact and does not cause bodily harm.
The machines operated by the robots have also been equipped with light curtains as an extra precaution. Denmark's Occupational Safety Administration has also paid Stantræk an unannounced visit and was so impressed by the level of safety that they asked to showcase the production as a best practice example for a team of safety inspectors.
"Having the UR robots operate without safety fencing is a significant benefit for us," says Barbarus. "It's a space saver and makes it a lot easier to fit the robots into production."
Flexible -- Not Idle
Jørgen B. Randa is a sales consultant with Armiga that sold the UR robot to Stantræk.
"It's been my experience that many of the companies investing in traditional robots have been frustrated with how little they end up using the robots in everyday production," he says. "It's really great to visit companies like this and show them how a UR robot eliminates many of the problems experienced with industrial robots. The UR robots are so flexible and easy to use that they fit seamlessly into the short-run production cycle that many SMEs operate within."
Abandon the Fear of New Technology
Randa encourages the industry to embrace robotics. "Development is moving so fast and the ease of use allows anyone to operate the UR robots," he says. "If you don't seize this opportunity or hesitate too long in automating your production, you risk missing the boat in terms of international competitiveness."
Want more information? Click below.