New Powermill Provides Complete Machining of Complex Workpieces in One Setup
With a powerful counter spindle permitting 4 axis machining, a B axis with a direct drive for complex 5-axis simultaneous milling operations, an additional Y axis for the lower turret, and proven, high-quality features, the new Hyperturn 65 Powermill from EMCO Maier offers major advances in productivity for series production.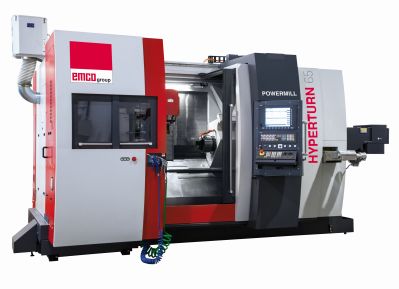 The HYPERTURN 65 Powermill is particularly interesting for the serial production of workpieces, for example in the automotive, mechanical engineering and materials handling, and aerospace industries.
Complex as well as costly turning, drilling, milling and gear cutting operations can be carried out in just one setup. Additional clampings and the temporary storage of parts are no longer necessary and workpiece precision is greatly improved. Total production time, fixture and personnel costs, as well as floor space requirements can be drastically reduced with the HYPERTURN.
With a spindle distance of 1300mm, the Hyperturn 65 Powermill has a large clearance for simultaneous machining on the main and counter spindles. With 29kW and 250Nm of torque, the counter spindle now has enough power to machine the workpiece simultaneously with two tools for greater machining productivity.
The milling spindle with 29kW, 79Nm torque and 12,000rpm, delivers high productivity in the complete machining of complex workpieces. The B axis direct drive gives the Hyperturn 65 PM good dynamics and contour capabilities with 5 axis simultaneous machining, alongside shorter tool change times. The additional Y-axis on the lower turret makes extensive milling work possible at the same time as machining with the milling spindle.
The powerful milling spindle with HSK--T63 tool interface can be used for both turning and drilling/milling work. The milling spindle can be continuously swiveled within a range of +/- 120 and clamped anywhere. With a useful Y travel of +120/-100mm, even the most complex of machining work can be carried out. This includes gear-cutting operations, turning/milling work for crankpins, 5-axis machining, and much more. The tools can be prepared according to the customer's requirements with a 20-piece pick-up magazine, or a 40 or 80-piece chain magazine.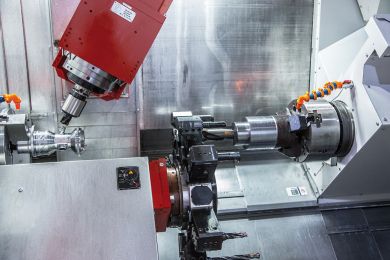 The Y axis was realized by two interpolating axes, resulting in a distribution of the cutting force in two levels and adds stability to heavy-duty turning and milling. This means the lower turret with integrated milling drive can also be used for complex milling operations at all 12 positions, combined with a Y-axis with +/- 50mm travel.
Wide Tool Selection
20, 40 or 80-piece tool magazines with HSK-T63 give the user more possibilities for complete machining operations of complex workpieces, with simultaneously low set-up times for individual parts manufacturing and high stability for turning and milling works. The frontal arrangement is easy to set up and ergonomic.
As an alternative to the VDI30 or VDI40 12-position tool turret, EMCO offers a new generation of turret with BMT interface and direct drive. Higher stability and precision, and performance data similar to a milling machine, enable the complete machining of turning/milling workpieces.
The automatic bar machining and/or delivery of unit loads via a robot solution or the EMCO gantry loader offer excellent potential for increased efficiency in automation.
In addition to mechanical and electrical performance values, control systems and software are increasingly determining the productive efficiency of machine tools. The Hyperturn 65 is equipped with the SINUMERIK 840D-sl control unit from Siemens. The new user interface enables an intuitive and significantly easier programming of the machine.
Want more information? Click below.