The Perfect Combination -- ER Collet Chuck and Quick Change System Now in One Toolholder
In the past, acquiring non-perishable tooling after a major machine purchase required a large expenditure -- one that was often uncomfortable for companies with limited budgets. In today's hyper-competitive marketplace (especially in the middle of a still-sluggish economy), this cash outlay can be worse than uncomfortable -- it can be crippling. That's why, for leaders focused on conserving costs and improving productivity, WTO's innovative new system can be a game-changer.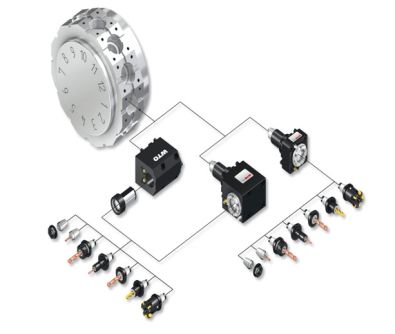 QuickFlex®, a new and innovative quick change system for driven toolholders, saves a substantial amount of money in out-of-pocket tooling costs. Plus, it dramatically reduces tool change time and provides greater flexibility.
"Providing an ER collet chuck and quick change system in one toolholder allows you to buy many fewer tools than you would have to otherwise," says Anthony DeHart, director of sales and business development at WTO USA. "Best of all, this flexible system doesn't compromise rigidity, performance, or accuracy, which is great news for high-precision contract manufacturers."
QuickFlex® was officially introduced in 2012 and is now available for the North American market. It offers a complete toolholder program for the most popular turning center models using bolt-on turrets.
Specifically, DeHart says, the QuickFlex®'s base unit allows customers to clamp tools directly into the ER collet of the toolholder -- no additional purchases necessary. If customers acquire additional types of tooling in the future, they can be easily accommodated by using the QuickFlex® adapters, which are mounted directly into the base unit.
"The base unit comes in a straight (radial) or right angle (axial) configuration, which -- combined with the wide range of adapters available -- covers virtually any machining process requirement, all in a single system," DeHart explains. "This approach enables the company to incrementally invest in a full range of options with minimal initial capital requirements. It also accommodates the multiple setups and frequent changeovers that are required for the short manufacturing runs in today's production environment."
Want more information? Click below.