New Features on Micro-Imaging Software Enable Seamless Image Acquisition, Processing, Measurement, and Storage
As a highly advanced micro-imaging software system designed to turn Olympus industrial microscopes into high-performance analysis tools, OLYMPUS Stream allows users to seamlessly acquire, process, and measure images, then create valuable data and reports. With the release of Stream 1.9, Olympus introduces users to a host of new software features designed to further enhance workflow and allow simple, flexible system operation.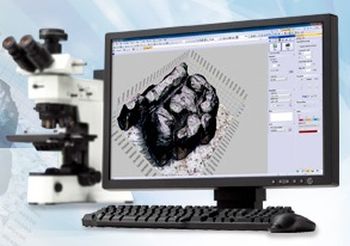 Of significant importance to the new Stream system are two new materials solution features, Automatic Measurement and Coating Thickness, that allow imaging and processing to be easily adjusted to better serve the analysis of samples.
Automatic Measurement allows the creation of complex measurements using scanners by automatic detection of material edges and pattern recognition. This materials solution automatically measures distances, circle diameters, and angles between two lines. Automatic Measurement also supports the multiple stage location and sample alignment with OLYMPUS Stream Motion.
Coating Thickness measures the thickness of prints created using the Calotest method, in which a sphere is grinded on the surface of the material. By measuring the projected coatings and substrate sections the thickness of the coating layers can be calculated.
Other materials solutions offered within Stream software include Grains Intercept, Grains Planimetric, Layer Thickness, Cast Iron, Inclusions Worst Field, Porosity, Phase Analysis, and Particle Distribution.
The new software introduces a sample alignment method based on pattern recognition that will allow the user to scan a sample, remove it, and reposition it so that the same positions will be scanned again, returning repeatable and reliable results.
OLYMPUS Stream 1.9 also offers two new measurement tools. The first allows a user to measure the distance between two circles, center to center, providing the distance between the centers. The second new measurement tool is an angle ruler that allows users to define a measure in X and Y with a defined angle (this can also be used to determine an ROI with a certain size). Measurement values appear in the live measurement tool window and can be saved as a workbook.
Stream 1.9's new PowerPoint Assistant allows users to easily create PowerPoint presentations using Stream images from galleries, databases, and other sources imported directly into PowerPoint. Templates can be created, saved, and used for future Stream-based presentations.
Want more information? Click below.